Emirates Airline president Tim Clark has again expressed concern about how airlines will cope with rising demand in the future without recourse to new Airbus A380-sized jets, warning that ticket prices could eventually rise as a consequence of fewer seats being available into slot-constrained airports.
Speaking during the IATA annual general meeting in Doha on 20 June, Clark acknowledged that Airbus "have a great stock of aeroplanes", but said of the range-topping A350-1000: "Guys, that's too small."
"How are you going to cope with global demand if you pick up at [2019 levels of growth] and extrapolate to 2030 at 4%?" he asks. "How are you going to cope with that with A320s and A350s?
"You need a bigger unit."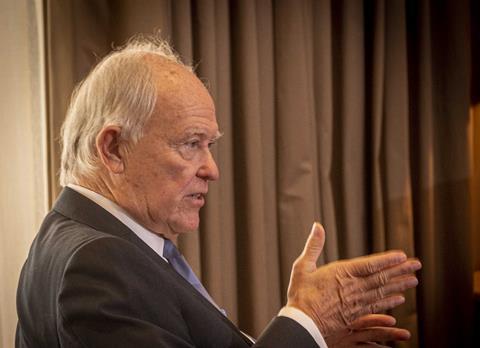 And amid delays to the delivery of the first Boeing 777X, Clark says "I don't know what will happen" if the 777-9 "doesn't come".
"You're left with the 787-10," he states. "Is that it?"
Noting that Emirates has six A380s a day flying into Heathrow, Clark says that in order to achieve the same capacity with 787s, the airline would need to operate two-and-a-half aircraft for every A380.
"And how are you going to fit two-and-a-half 787s with all this growth into a restricted field like Heathrow?" he says. "How are you going to do that in Sydney? How are you going to do that in San Francisco?
"What it will do is put the cost of air travel up through the roof, if you're not careful," Clark suggests. "So you've got to find a way, and I fret with this one.
"Somebody's got to do something, honestly."
Clark jokes that he has a new – three-engined – A380 "on the drawing board" but that he has not shown it to Airbus chief executive Guillaume Faury yet.