Malaysia Airlines is unlikely to break even this year, as a result of "multiple headwinds" confronting the carrier, including inflation and high fuel prices.
Speaking to FlightGlobal at the IATA annual general meeting in Doha, airline chief executive Izham Ismail says that while he is bullish about the airline's future – especially since it completed its restructuring – challenges still persist.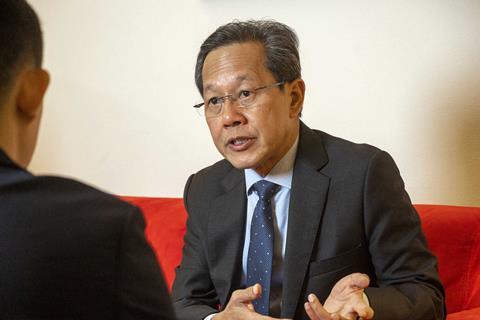 "I would be lying to you if I said we were going to break even this year. Not anymore," he says.
Fuel costs, for example, already take up 45% of the airline's costs, and are not expected to decline soon. This compares to an industry average of around 20% before the spike in oil prices.
Still, Izham says demand for travel has been very robust this year, and he attributes it to a "revenge travel" phenomenon. The airline has revised upwards its capacity forecast for the year-end to 76% of pre-pandemic capacity. Previous estimates stood at around 70% by end-2022.
Izham also notes that the number of passengers flown to date is at least 30% higher than the airline's own targets.
Asked if the carrier remains confident of sustained demand, Izham points out that the forecast is a "dynamic position".
"It will probably move, up or down, depending on where the demand is. One thing I am clear is that the international capacity remains structurally the same.
"Domestic [capacity]…is what we are playing in," he says.
Izham previously stated that the airline had shifted its network strategy away from China in the near term, as Beijing remains firmly entrenched in a zero-infection strategy.
He also confirms that the airline is "at the tail end" of airframer discussions on a replacement for its medium-haul fleet, which currently comprises 21 Airbus A330s.
While he is coy about it, Izham says the airline is looking to make a decision by end-July, and that the airline would order around 20 aircraft.
He stresses that its decision will be based on whether the new aircraft "will be able to [allow us to] maintain our balance sheet… and provide us with efficient fleet costs".
The airline's A380 fleet, which it has put up for sale, has yet to find new owners, but Izham tells FlightGlobal the airline is "in deep conversations" with several interested parties.
It is also unlikely that the superjumbo will make a return to the airline's fleet: "The A380 is not in our network plan anymore."