IATA director general Willie Walsh believes a return to profit across the industry is possible in 2023 after the association cut back its estimate of airline losses for this year to $9.7 billion.
The association had previously projected a loss of $11.6 billion. IATA also now sees the industry having lost around $10 billion less than originally expected in 2021.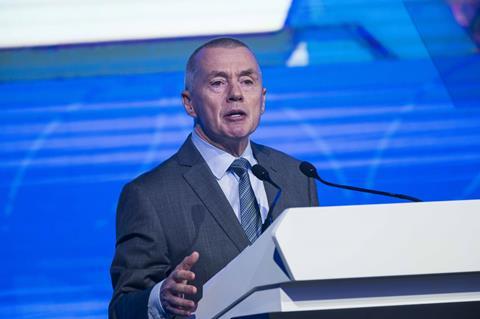 Speaking at the opening of IATA's AGM in Doha today, Walsh said: "Our industry is now leaner, tougher and nimbler. Our latest analysis shows losses in 2021 close to $42 billion, a huge loss, but down from our earlier estimate of $52 billion. And we now believe that global losses will be cut further, to $9.7 billion this year."
IATA projects industry revenues will reach $782 billion this year – 93% of pre-crisis levels – and passenger numbers to hit 3.8 billion.
"Industry-wide profit should be on the horizon in 2023," Walsh says.
Notably IATA still sees North American operators as the only profitable region this year. However, the $8.8 billion net profit forecast for 2022 is $1.1 billion less than it had projected in its previous outlook in October 2021.
IATA's outlook sees diverging fortunes for European and Asia-Pacific operators. It had previously expected Asia-Pacific carriers, aided by a strong cargo performance, to sharply improve fortunes this year and cut net losses to $2.4 billion. However, amid continued travel restrictions, notably in key market China, it now sees the region's carriers recording a loss of $8.9 billion this year.
By contrast IATA has improved its outlook for European carriers this year. While it still expects airlines in the region to remain in the red for 2022, a net loss of $3.9 billion is less than half the $9.2 billion it previously forecast.
IATA also expects losses to be lower than it originally anticipated for carriers in Africa, Latin America and the Middle East.
IATA net profit 2022 outlook by region
Region
2022 (June 22 outlook)
2022 (October 21 outlook)
Change
Source: IATA outlooks October 2021/June 2022
North America
$8.8bn
$9.9bn
($1.1bn)
Africa
($0.7bn)
($1.5bn)
$0.8bn
Middle East
($1.9bn)
($4.6bn)
$2.7bn
Latin America
($3.2bn)
($3.7bn)
$0.5bn
Europe
($3.9bn)
($9.2bn)
$5.3bn
Asia-Pacific
($8.9bn)
($2.4bn)
($6.5bn)
Total
($9.7bn)
($11.6bn)
$1.9bn
"Airlines are resilient. People are flying in ever greater numbers. And cargo is performing well against a backdrop of growing economic uncertainty," Walsh says. "It is time for optimism, even if there are still challenges on costs, particularly fuel, and some lingering restrictions in a few key markets."