Korean Air chief executive Walter Cho is hopeful of securing the necessary approvals from US and European Union competition regulators for the airline's merger with Asiana by the end of this year.
The SkyTeam carrier first announced plans to acquire Asiana in November 2020, as the coronavirus pandemic turned the country's aviation sector on its head. It has since been ticking off various international regulatory issues, but still has to secure approval in several territories, notably including the USA and the EU.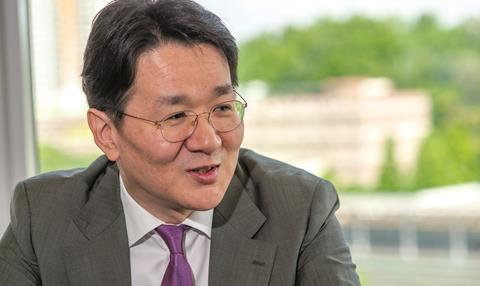 "We weren't expecting it be easy, because Asiana and Korean Air were basically 100% of the international market [out of Korea], especially in long-haul," Cho told reporters during a media round table in Doha at the IATA AGM. "And with the US and EU, I expected there to be some issues. However, we are on track."
US and EU regulators are among those seeking to ensure there is enough competition on routes once the carriers are merged. While Cho argues that because a majority of its US-originating traffic is transit – meaning it is in competition with other carriers in region on these routes – Korean has been seeking other operators to enter some of the impacted routes.
"We are starting to talk with other carriers that have interest to fly to Korea and we are also starting to meet the request from the [US Department of Justice] and the EU on their requirements, which are basically similar," says Cho.
"And we expect no later than the end of the year we will get the EU and US approvals, which is going to be the milestone of this acquisition process. And other countries, it's similar progress right now. So everything should be done no later than the end of the year."
Once regulatory hurdles are overcome, one of the next big challenges will be combining the fleets of the two carriers. Korean and Asiana operate a diverse range of aircraft, and even when the pair operate common types there might be engine disparities. For example, predominantly Airbus-operator Asiana will add A350s into a widebody fleet mix at Korean which already includes Boeing 787s.
"Being so diverse in fleet type is never ideal. So we are looking into it," Cho says. "But they serve their own purpose. The A350 is a very large plane that can replace the A380, the 787 is a very good medium, long-range aircraft. We have a very high demand for it, that's why we have 30 on order. We never expected to get the A350.
"I would like to clean it up," he says of the prospective merged fleet. "But that's very difficult. We'll see what happens."
There is also a similar fleet complexity involved in bring the carrier's low-cost units – Jin Air, Air Busan and Air Seoul – into a single entity. "If we merge together we will have four different aircraft with five different engines," Cho says, noting the group is looking at a plan to reduce that to three types: a widebody, a narrowbody and a smaller narrowbody type for domestic routes.
One option for the latter is A220s, which Korean operates. "I've thought it would be a very good low-cost carrier aircraft – it's very efficient," says Cho, though he stresses the fleet mix remains at the planning stage.
He does, however, confirm the merged operator will fly under the Jin Air brand. "They will operate out of Incheon – that will be their hub. Busan is a very important market, but we will keep it as secondary hub," he says.