Airline association IATA has warned that carriers are unlikely to be prepared for the deployment of C-band 5G in the USA in July 2023 based on current progress, creating the risk of significant travel disruption if the rollout goes ahead as planned.
While temporary arrangements enabled the industry to move past the issues seen in January this year, when the initial rollout was attempted, full deployment of C-band 5G is planned to restart from July 2023. Before then, airlines are expected to have implemented solutions to the current danger of radio altimeters on aircraft being vulnerable to interference from 5G transmitters.
"We find ourselves in a situation where we were mandated to implement radio filters and new radio altimeters on all aircraft operating into and within the US by July 2023," says IATA's senior vice-president of operations, safety and security Nick Careen during a briefing at the association's AGM on 21 June.
Those solutions are coming at the airline industry's expense – and are not progressing at the rate required to meet the July 2023 date, according to IATA .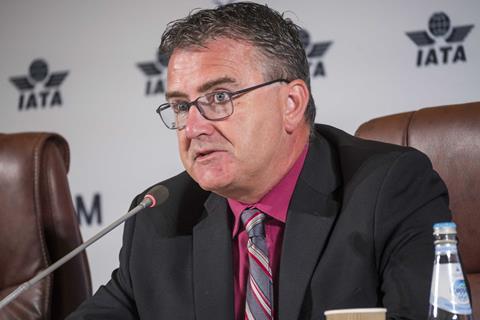 Indeed, while Careen says the US Federal Aviation Administration believes there is consensus on the July rollout date, IATA disagrees.
"The manufacturers won't commit to this date," he says. "The airlines are not really sure – they are not seeing anything in terms of a directive yet that explains this perfectly for them.
"And we're a year away."
If nothing is done to address that situation, Careen predicts there will be "massive disruption to our networks in July next year".
To avoid that outcome, IATA director general Willie Walsh says the FAA "needs to continue working with all stakeholders collaboratively and transparently, including the FCC [Federal Communications Commission] and the telecom sector, to define solutions and deadlines that reflect reality".
Given many of the issues are unique to the USA, including the high power of its 5G transmissions and the relatively small buffer zones implemented around airports, IATA suggests the USA may wish to consider measures taken by governments elsewhere, including: ensuring sufficient spectrum separation between C-band 5G deployments and the frequency band used by existing radio altimeters; enforcing a maximum power limit for 5G transmissions; and establishment of 5G prohibition zones around airports.
Careen's confidence in a solution being found is dented by IATA's experience around the January 2022 rollout, for which he alleges regulatory bodies "completely ignored" years of warnings from IATA on possible disruption.
"As a result, the C-band rollout in January 2022 was a mess," Careen says.
"Airlines were cancelling lfights because they didn't know if they could operate or not," he states. "It was ridiculous.
"I couldn't believe what was happening."