Three airline customers including Cathay Pacific have signed up to trial a new blockchain-powered 'book-and-claim' sustainable aviation fuel initiative launched by Shell, Accenture, and American Express Global Business Travel aimed at boosting corporate demand.
The partners, which launched Avelia in Doha where IATA's annual general meeting is taking place, say the scheme is the largest SAF book-and-claim pilot at launch, offering around 1 million gallons of fuel.
Book-and-claim allows travellers to pay for SAF, and claim the benefits, even if SAF is not available at their departure airport. SAF will instead be fed into another aircraft at an airport where available.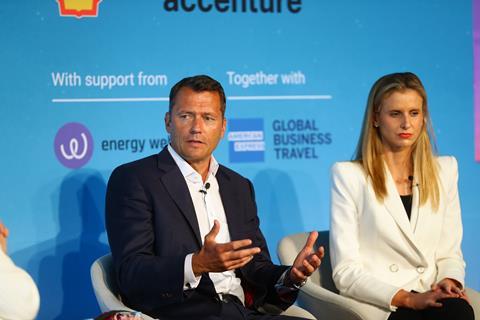 Developed by Shell and Accenture, with the support of the Energy Web Foundation (EWF), Avelia includes Amex GBT's travel management services to aggregate global business demand for SAF
The partners say the pilot phase of the programme aims to demonstrate the credibility of the book-and-claim model, using blockchain technology to ensure secured allocation of SAF's environmental attributes to companies and airlines after the fuel has been delivered into the fuel network.
Rachel Barton, Europe strategy lead at Accenture, says: "Our vision for the Avelia platform is to bring together airlines, corporates, cargo players, and SAF suppliers in a trusted ecosystem that no individual company could build or access on its own. Blockchain technology will be piloted to help ensure trust via data integrity, validate proof of ownership, and enable transparent tracking of the environmental benefits of SAF for customers."
Shell, Accenture, and Amex GBT are the platform's first customers. Shell has committed to purchasing the environmental attributes equivalent to 100,000 gallons of SAF over the pilot phase of the Avelia programme.
Cathay Pacific is one of three airlines to sign up for Avelia and, speaking during a press event in Doha in 19 June, the carrier's general manager of corporate affairs Andy Wong says using the platform is also an opportunity to develop better awareness of SAF in the region.
The two other undisclosed carriers lined up for Avelia are in the Americas and Europe respectively. "So we will have three airlines from three parts of the world," explains Shell Aviation president Jan Toschka.
The initiative aims to stimulate demand for SAF, which is seen as the key enabler to the airline industry meeting its net-zero carbon emissions by 2050 but which remains in the embryonic stage of production.
"It is pretty costly and because of that there is very little demand, and because there is very little demand there is very little supply, and that is what we call the chicken and egg problem," Toschka says.
He believes the collaboration of industry players can help stimulate more demand. "I don't think it's right to assume that the airline industry and airlines pay for SAF on their own. Our task is to find ways, vehilcles, a platform which allows corporate flyers to co-fund SAF, which then lets the airlines buy more SAF, which then let's us invest in more production facilites. This is where Avelia comes into the picture.
"We are building one of the finest blockchain-powered 'book and claim' methodologies," he adds. "We are aware that various ways are being looked into. We believe the path we have chosen is the right path, to have experts in each field - whether that is in techology, whether that is in block chain."
But he adds: "I do believe it is not about us necessarily winning this, or someone else winning it – it is not a competition per say. We want to help that book-and-claim gets accepted, because that will unleash the potential of buying more SAF."