Indian low-cost carrier SpiceJet has entered a lease agreement with FTAI Aviation for CFM International CFM56 engines.
The programme will provide SpiceJet with up to 20 engines for lease, including maintenance reserves, says the carrier.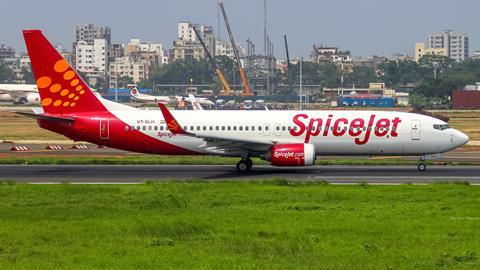 SpiceJet says this will eliminate the need for shop visits and minimize aircraft downtime.
The carrier describes the move as an effort to "revitalize" its fleet, with initial engines going to re-activated aircraft in the next two to three months.
"SpiceJet is slowly but surely progressing towards its goal of restoring its fleet and ensuring that our aircraft stay where they rightly belong to i.e. in the skies serving our passengers," says chief executive Ajay Singh.
SPICEJET FLEET AS OF 8 JUNE 2023
Manufacturer
Type
Aircraft Sub Series
Total In Service
Total In Storage
Total On Order
Average Age
Airbus
A340
A340-313E
2
0
0
15.4
Boeing
737 Max
737 Max 10
0
0
20
Boeing
737 Max
737 Max 8
9
2
112
4.5
Boeing
737 Max
737 Max Variant Unannounced
0
0
12
Boeing
737 NG
737-700
3
2
0
15.5
Boeing
737 NG
737-700BDSF
2
1
0
24.1
Boeing
737 NG
737-800
10
5
0
15.3
Boeing
737 NG
737-900ER
1
2
0
14.8
De Havilland Canada
DHC-8
DHC-8-402 (Q400)
8
18
0
9.2
All Aircraft
35
30
144
11.4
Cirium fleets data
"Our partnership with FTAI Aviation is a step forward in that direction that would ensure that our fleet is up and running at all times without us worrying about engines or their maintenance. Quick and ready replacements will ensure that our planes are on the ground for minimal time."
Cirium fleets data indicates that SpiceJet has 35 in-service aircraft, most of which are Boeing narrowbodies. It is also listed as having 30 stored aircraft, of which nine are CFM56 powered 737NGs.