Despite concerns about soaring Covid-19 rates in the Moscow region, Russia's MAKS will become the first major air show to be held in the pandemic era when it begins on 20 July.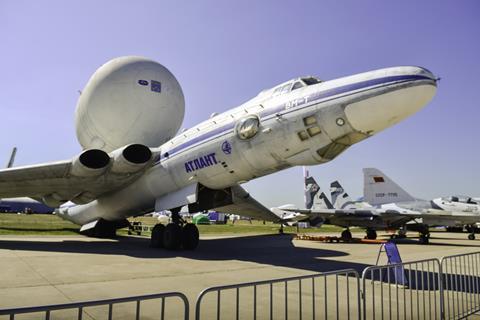 The biennial, six-day event is a chance for the country to showcase its aerospace capabilities to international visitors – although the usual attendance is likely to be suppressed this year as a result of travel restrictions – as well as a large domestic audience, for whom Russia's prowess in military and commercial aviation, as well as spaceflight, are a source of great national pride.
While national exhibitors – from small technology companies and suppliers to the famous design bureaus that are now part of larger groups – occupy most of the space, MAKS also plays host to dozens of overseas manufacturers, which this year include Airbus, Boeing, Cirrus, De Havilland Canada, Safran, and Viking Air.
A number of notable Russian aircraft will be appearing at the show this year, such as the Irkut MC-21-310, the version of the narrowbody powered by domestic Aviadvigatel PD-14 engines, as well as the Ilyushin Il-114-300 regional turboprop and Il-112V high-wing light military transport. Less well known, the Baikal Engineering LMS-901 is a utility aircraft designed to replace the Antonov An-2.
As Moscow pushes industry to develop viable alternatives to Western commercial powerplants, propulsion will be a theme of this year's event, with United Engine providing an update on the PD-35 and PD-8 programmes.
This year's show, sited as ever at the technology and test flight hub of Zhukovsky, just outside Moscow, will be the 15th since the inaugural event in 1993. That took place just as the world was adapting to the end of the Soviet Union, and Russia's vast aerospace industry was embracing a different vision of its future.
During the Cold War, Russia's influence extended around the world, providing a ready market for its military aircraft. Its vast territory created a need for a large domestic commercial aerospace industry too, the products of which were also sold internationally.
Since the early 1990s, the country has had to work harder to win export customers, although programmes such as the Sukhoi Superjet and the MC-21 show that it is still prepared to place bets on ambitious civil aviation projects. In rotorcraft, Russian Helicopters remains a global giant with products that hold their own or more with those of Airbus, Bell, Boeing, Leonardo and Sikorsky.
The MAKS air show – from which we will be reporting, together with providing background analysis on some of the country's key programmes and industrial priorities – will be a barometer of how well Russian industry is weathering the Covid storm, and its prospects in the post-pandemic future.