The Boeing Airpower Teaming System (ATS) unmanned air vehicle (UAV) has received the Australian designation MQ-28A Ghost Bat.
The designation follows the completion of test flights, says Australian defence minister Peter Dutton. The aircraft has been co-developed by Boeing and the Royal Australian Air Force (RAAF).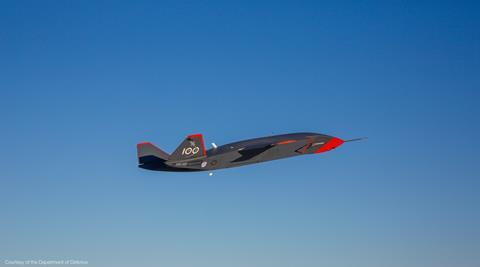 "As air warfare grows more complex and more sophisticated, remotely piloted aircraft and other uncrewed platforms are becoming increasingly vital assets for modern militaries," says Dutton.
"Our partnership with Boeing has successfully designed, manufactured and flown the first Australian-built military combat aircraft in 50 years.This new capability allows us to introduce more mass into the battlespace. An adversarial aircraft would not only have to contend with our crewed capability, but also numbers of uncrewed aircraft such as the MQ-28A Ghost Bat."
Boeing adds that the 'RAAF Loyal Wingman' designation will be phased out, although internationally the aircraft will still bear the 'Airpower Teaming System' designation.
"Ghost Bat reflects the intended mission and operational capabilities of the aircraft," says the RAAF's Head of Air Force Capability, Air Vice-Marshal Robert Denney.
"A ghost bat is an Australian hunter which uses sophisticated multi-spectral sensors to detect, hunt and kill prey both in the air and on the ground. They team together in large numbers to confuse and overwhelm their adversaries and are native to Australia."
Dutton adds that the "three flight test series" have been conducted, and that the MQ-28A's 2,000nm (3,700km) range would allow the RAAF to "hold a potential adversary's forces and infrastructure at risk from a greater distance".
Canberra has ordered six examples so far. The ATS was first announced at the Avalon Airshow in February 2019. The aircraft was subsequently developed and entered flight testing in Australia. The aircraft's nose can accomodate different mission systems, and there is sufficient space along the aircraft's sides for weapons bays.
The ATS is designed as an "attritable" loyal wingman UAV. Boeing, which sees potential for the system overseas, developed and funded the ATS in partnership with Canberra.
Attritables are a new class of unmanned aircraft that are so inexpensive that an air force could afford to lose many examples to combat attrition and then affordably replace them. The concept originated with the US Air Force, which defines attritable UAVs as priced between $2-20 million apiece.
Such aircraft will be particularly valuable in any potential conflict against China, theoretically allowing allied forces to use numbers to saturate and overwhelm Beijing's extensive defences.