Attendees of the Avalon Airshow in Australia were treated to the public's first look at the autonomous jet aircraft Boeing is developing with the Royal Australian Air Force (RAAF).
A flight-capable testbed of Boeing's MQ-28 Ghost Bat was on display during the 28 February opening of the defence-focused airshow outside Melbourne.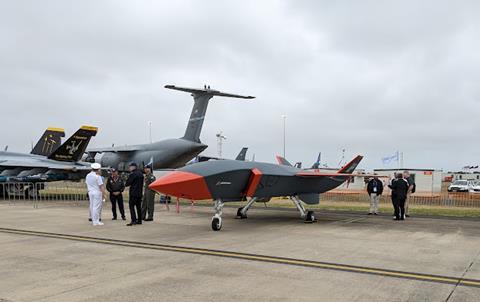 The Australian subsidiary of Boeing Defense, Space & Security (BDS) designed and built the MQ-28 in Australia.

The programme, formerly known as "Airpower Teaming System", is still in flight testing, and Boeing is revealing little about any future acquisition plans Canberra may have.
"Job number one is to make sure we're executing for the RAAF," says Steve Nordlund, BDS vice-president for air dominance. "That's going well."
FlightGlobal understands that at least one MQ-28 has gone to the USA where it is undergoing tests with the US Air Force (USAF).
The MQ-28 is meant to be paired with crewed fighter aircraft, such as Australia's Lockheed Martin F-35As, to perform a range of missions, including intelligence gathering, reconnaissance and offensive strikes. Boeing and the RAAF call the concept "airpower teaming".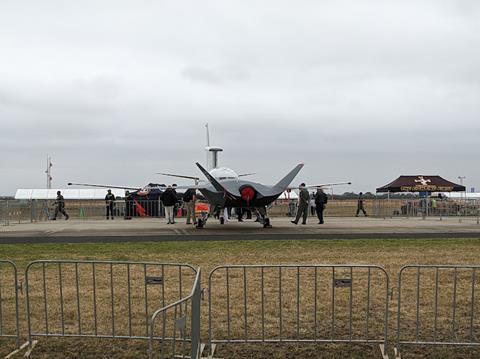 US-based manufacturer Kratos is developing a similar autonomous teaming aircraft it calls the XQ-58 Valkyrie. The company has secured contracts with the USAF and US Navy (USN) under the Valkyrie programme.
Boeing has not revealed the schedule for MQ-28 testing, nor upcoming milestones for the programme. However, Nordlund says there have been "no significant surprises" in the aircraft's development thus far, and he does not anticipate significant engineering changes.
When design work on the jet is complete and the programme moves into production, the MQ-28 will be manufactured domestically for the RAAF.
"There is a large production footprint here in Australia," Nordlund notes.
Any decision about opening up the aircraft for export will rest with the government in Canberra, he adds.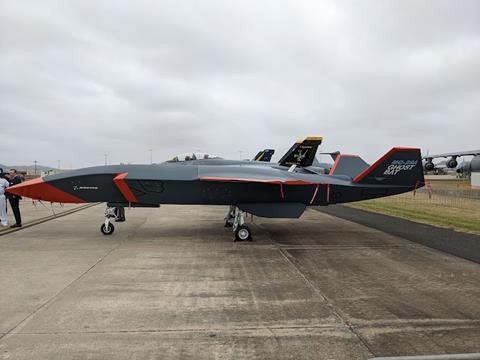 BDS is separately developing another autonomous jet for the USN – the MQ-25 Stingray. That aircraft – currently in flight-testing in St. Louis, Missouri – will act as an in-flight refuelling platform aboard aircraft carriers.
Nordlund says despite some outward similarities between the Stingray and Ghost Bat, there is not substantial co-development between the two programmes – which he notes carry markedly different requirements.
The Ghost Bat programme was first announced in 2019 – at the most recent previous iteration of the Avalon Airshow.