BAE Systems and the US Department of Defense (DoD) have performed a successful manned unmanned teaming (MUM-T) demonstration with a fighter and unmanned air vehicles (UAVs).
The test, which took place on a DoD range, saw the UAVs execute a simulated combat mission alongside a combat aircraft, says BAE.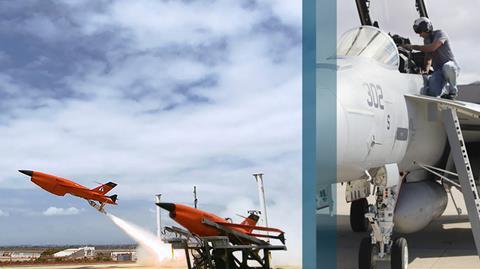 Working together, the UAVs – equipped with real mission sensors – were able to autonomously execute the tactics required to complete the mission, while the fighter pilot monitored progress and used a human machine interface (HMI) to interact with the UAVs as necessary.
"The development of autonomous technology is crucial to protect our warfighters against emerging threats," says Ehtisham Siddiqui, vice-president and general manager of Controls and Avionics Solutions at BAE.
"This flight test demonstrates our team's commitment to accelerate the deployment of reliable and innovative manned-unmanned teaming solutions for mission success."
BAE undertook the project with the Deputy Secretary of Defense's Strategic Capabilities Office. The company did not state the aircraft type and UAVs involved, but issued an image showing a Boeing F/A-18E Super Hornet along with a pair of Kratos target drones. The company also did not state the number of UAVs involved.
The company says the work demonstrated "collaborative mission execution in an operationally representative environment".
"Test feedback from the manned aircraft operator also underscored the maturity of the MUM-T technology offering, highlighting its user-friendly interface, which increases mission safety and lethality," says BAE.
The company adds that the technology involved allows new payloads to rapidly enter fleet use, helping effectiveness against adversaries. In addition, its MUM-T algorithms can be adapted for new missions and technologies, with third parties able to provide customisation via a software kit.
MUM-T is seen as a promising technology that allows manned assets to work with UAVs to execute complex, dangerous missions in contested airspace.