BAE Systems has unveiled a conceptual unmanned air vehicle (UAV) designed for ground-attack missions.
Dubbed Strix, the UAV has a forward gullwing with two electric propellers, and a canted T-tail also with two propellers, says BAE.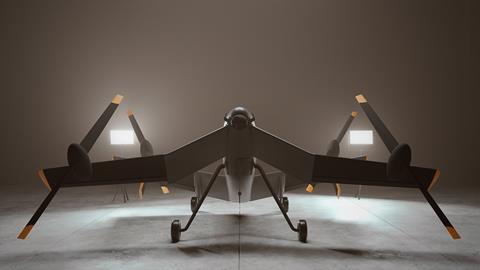 A company video shows Strix emerging from a shipping container, taking off vertically, and transitioning to horizontal flight. Strix will also be able to operate from warships.
The maximum take-off weight is listed as 900kg (1,980lb), and a typical payload is 160kg. Flight endurance with the maximum payload is given as 5h.
Potential weapons include the MBDA Brimstone and Lockheed Martin AGM-114 air-to-surace missiles, 70mm laser-guided rockets, and BAE's developmental Razer precision-guided munition.
Strix is equipped with a chin-mounted electro-optical/infrared sensor. It can also carry sonobuoy dispensers in the maritime role.
Strix will use the vehicle management system BAE developed for the Boeing MQ-28 Ghost Bat programme.
BAE says it is the first armed vertical take-off and landing (VTOL) UAV designed in Australia, and was created in collaboration with Perth-based Innovaero. It says there will be opportunities for Australian industry and academia to participate in the project.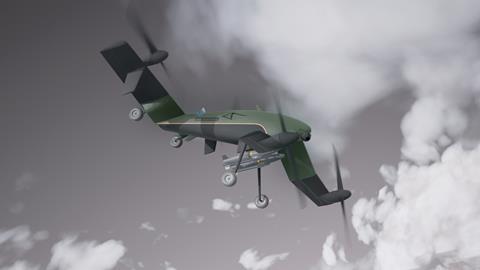 "Strix leverages existing, proven technologies to provide an affordable and cost-effective capability that is mission configurable and upgradable in response to emerging technologies or threats," says Ben Hudson, chief executive of BAE Systems Australia.
"Strix could be ready for operational service as soon as 2026 and work is already underway on a Strix prototype. We're excited that this is the first UAS of its kind to be developed in Australia and look forward to working with partners across the country to deliver this capability to customers."