Turkish manufacturer of uncrewed aerial vehicles (UAVs) Baykar Technologies has completed first flight of its Bayraktar TB-3 type, which is destined for service on Turkey's first aircraft carrier.
Baykar revealed the TB-3 test flight on 20 October in posts to several social media sites.
"Bayraktar TB-3 successfully completed its take-off and land test," the Istanbul-headquartered company says.
The TB-3 is a naval variant of the combat-tested Bayraktar TB-2 UAV, which achieved notice in the ongoing Russia-Ukraine war for helping defend Kyiv and helping sink Russian naval ship Moskva in 2022.
Capable of both armed strike and intelligence, surveillance and reconnaissance missions, the TB-3 boasts 24h of flight endurance and ability to autonomously take-off and land on aircraft carrier decks.
The naval Bayraktar variant is designed to operate from short-runway carriers, such as Turkey's TCG Anadolu or the UK Royal Navy's larger Queen Elizabeth-class carriers.
Ankara launched its Anadolu carrier in April 2023, with the goal of placing uncrewed aircraft at the centre of the onboard carrier wing.
Speaking at the commissioning ceremony on 10 April, Turkish president Recep Tayyip Erdogan described the new carrier as "the world's first warship in its field, where the largest and heaviest helicopters and unmanned aerial vehicles can land and take-off".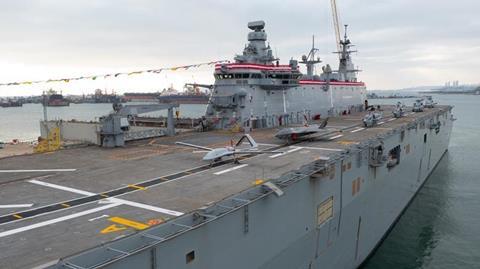 The Turkish ship is the first aircraft carrier to be primarily oriented toward uncrewed flight operations.
Focusing on a UAV-centric carrier was driven by Turkey's removal from the international Lockheed Martin F-35 programme in 2019, which the USA declared after Ankara opted to acquire a Russian-origin S-400 air-defence system.
Turkey had planned to operate the short-take-off-and-vertical-landing-capable F-35B variant from its new carrier, with the possibility of Harrier jump jets serving in the interim.
NATO allies Turkey and the USA held multiple talks on the possibility of restoring some of the 100 F-35s Turkey had planned to purchase, although little progress has been made. Ankara also seeks to purchase additional Lockheed Martin F-16 fighters, a move Washington has agreed to in principle but not yet approved.
In addition to TB-3s, Baykar is developing an uncrewed jet fighter, the Bayraktar Kizilelma, that is expected to constitute the bulk of Anadolu's air wing.
The single-engined design, which made first flight in December 2022, will also be capable of operating from the ramped flight deck of Turkey's carrier.
Baykar calls the type a "fighter UAV" being developed "fully within Turkish borders" and possessing "stealthiness against radar" and "aggressive manoeuvring capability".
The Baykar UAVs, along with the fifth-generation Kaan fighter being developed by Turkish Aerospace Industries (TAI), are part of a major push by Ankara to build out a domestic defence industry and reduce reliance on foreign manufactures.
That initiative includes domestically sourcing aircraft components. Notably, TAI says its twin-engined Kaan prototype is approximately 80% domestically sourced.
The type is powered by two GE Aerospace F110 engines, produced under license in Turkey for the country's fleet of ground-based F-16 fighters.