Turkish aerospace firm Baykar Technology has started ground tests of its Kizilelma unmanned combat air vehicle (UCAV).
The tests took place on 20 November at an air base in Turkey's northwest, says the company.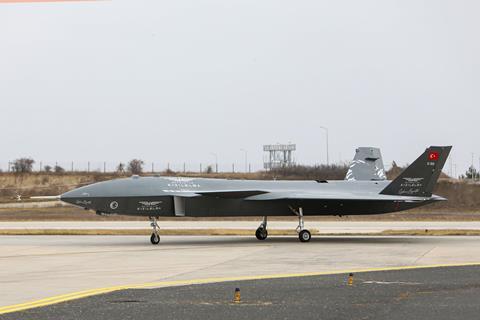 During the test the aircraft conducted an "autonomous taxi and take-off roll test", says Baykar.
The aircraft is powered by a Ukrainian Ivchenko-Progress AI-322F turbofan. The Kizilelma's maximum take-off weight is 5,500kg (12,100lb) and it will be able to carry a 1.5t payload.
Top speed is envisaged at 432kt (800km/h).
Baykar foresees the Kizilelma conducting several missions, including the suppression and destruction of enemy air defences. It is also intended to accompany manned aircraft, fulfilling a 'loyal wingman' role.
The Kizilelma bears a passing resemblance to the Chengdu J-20 fighter, with prominent canards, cropped delta wings, and a canted twin tail. Under the fuselage it features an EOTS (electro-optical targeting system) housing.
Baykar did not state when the first flight of the Kizilelma will take place.
The aircraft joins a growing list of proposed or developmental loyal wingman UCAVs.
The most prominent example is Boeing's MQ-28A Ghost Bat, which has been undergoing testing in Australia. Media reports have suggested the Ghost Bat – which Boeing Australia developed with the Royal Australian Air Force – is also being tested by the US Air Force.
At the recent Airshow China in Zhuhai, China Aerospace Science and Technology Corporation displayed a model of a loyal wingman aircraft designated FH-97A.
As with the Kizilelma and MQ-28A, the FH-97A is also envisaged as collaborating with manned aircraft on combat missions.
Japan also foresees its planned F-X Future Fighter working alongside UCAVs.