Turkish unmanned air vehicle (UAV) producer Baykar has secured a $370 million contract to supply its Bayraktar TB2 platform to Kuwait.
Revealing the contract on social media, the company did not state the number of systems to be supplied, but claims to have beaten competitors from China, Europe, and the USA.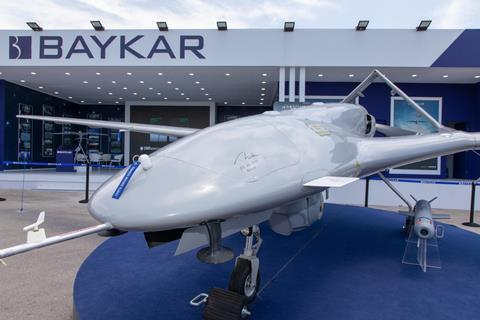 The TB2 has become a notable success story for Baykar in the last 12 months, with Kyiv using the UAV to great effect against Russian forces following Moscow's invasion of Ukraine last February.
The TB2 serves both as an intelligence, surveillance and reconnaissance platform and can also carry four laser-guided munitions, specifically the Roketsan MAM-L and MAM-C, says the company.
It can operate out to ranges of 161nm (300km) and has an endurance of 27h. Its operational altitude is in the range of 18,000-25,000ft.
The company claims that the TB2 has had over 400,000h of operational flight.
Separately, Baykar's DIHA, a small, winged UAV capable of taking of and landing vertically, recently conducted a test flight to an altitude of 8,000ft.
DIHA takes off with electric motors, and then switches to a thermal engine for horizontal flight. The system has an endurance of 12h and can carry a 5kg (11lb) payload.
The company also continues development work on the Bayrakter Kizilelma, a high-speed unmanned combat air vehicle that had its first fight in November 2022, and with the Akinci, a large UAV powered by two turboprop engines that is already in service with Turkey.