Turkish unmanned air vehicle (UAV) maker Baykar will donate three Bayraktar TB2 UAVs to Ukraine.
The company says it was moved to make the donation upon learning of a civilian crowdfunding campaign in Ukraine to fund TB2 acquisitions. It has asked, however, that any funds raised by the campaign "be used for the benefit of the honourable people of Ukraine".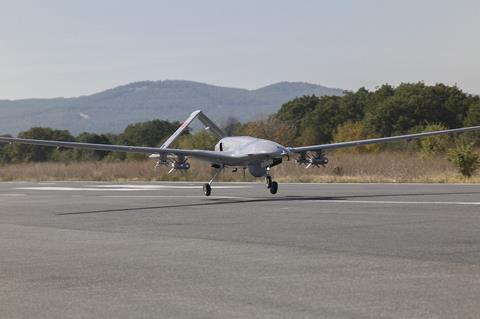 The TB2 has emerged as one of the war's most prominent weapons following Russia's invasion on 24 February. Substantial footage allegedly shot from TB2s shows attacks on Russian forces.
Separately, Reuters recently reported about a US plan to send Kyiv four General Atomics Aeronautical Systems MQ-1C Gray Eagles is being held up out of concerns that the UAV's sensitive systems could fall into Moscow's hands.
The deal was reportedly cleared by the White House, but the Defense Technology Security Administration has raised concerns.
The MQ-1C would add a formidable capability for Ukraine, given its comprehensive sensor suite, armament of four Lockheed Martin AGM-114 anti-tank missiles, and maximum endurance of 25h.
In addition, two Ukrainian RAC MiG-29 fighter pilots have recently met with American legislators and international media to raise awareness of Ukraine's airpower needs.
Although fears of appearing escalatory make it unlikely that Washington DC will seriously contemplate the transfer of combat aircraft, on 17 June two US Air Force veterans in congress, Adam Kinzinger and Chrissy Houlahan, introduced a bill related to more robust support. It calls for the training of Ukrainian pilots on types such as the Boeing F-15 and Lockheed F-16.
Air defence is another priority area for Ukraine. On 27 June, a US national security adviser said the US is finalising the transfer of NASAMs, a ground-based air defence system centred on a surface-launched version of the Raytheon AIM-120 AMRAAM (Advanced Medium Range Air-to-Air Missile).
Also on 27 June, a high level US defence official speaking on background said that Kyiv is looking for a range of systems, including helicopters, aircraft and missiles.
Perhaps the greatest surprise of the war is Moscow's inability to effectively apply airpower. Still, Russian tactical airpower remains active in Ukraine's Eastern Donbas region – where the focus of the war has shifted. Kyiv also claims that Moscow has used cruise missiles launched from Tupolev Tu-22 bombers to attack civilian targets, namely a civilian shopping mall on 28 January.
The Ukrainian air force is still in action. It claims that on 27 June it was able to mount 20 sorties against Russian forces using Sukhoi Su-25 ground-attack aircraft.