Boeing has conducted the first taxi test of the Airpower Teaming System (ATS) loyal wingman aircraft being developed in Australia.
Boeing Australia notes that this is the first time the unmanned aircraft has moved under its own power, and reiterated that a maiden sortie is planned by the end of 2020.
The ATS hit a top speed of 16mph (25.7km/h) during the taxi, and demonstrated the ability to stop and manoeuvre on command.
"The low-speed taxi enabled us to verify the function and integration of the aircraft systems, including steering, braking and engine controls, with the aircraft in motion," says Paul Ryder, Boeing Australia flight test manager.
Boeing's programme director for the ATS project, Shane Arnold, says that the ability to operate independently on the runway ensures "the aircraft will be a highly flexible and adaptable system for our global customers."
Boeing is building three prototypes of the ATS loyal wingman aircraft. Boeing and Australian government officials unveiled a mock-up of the ATS at the Avalon Airshow in 2019, and the system had its first engine run in mid-September.
The company has yet to secure a customer for the aircraft, but the project is clearly aimed at US Air Force interest in developing a fleet of unmanned 'loyal wingman' aircraft to complement manned aircraft.
As conceived, such aircraft will rely on artificial intelligence to perform missions set by crews in manned platforms. The Boeing Australia design features a modular nose that can accommodate different payloads depending on the mission.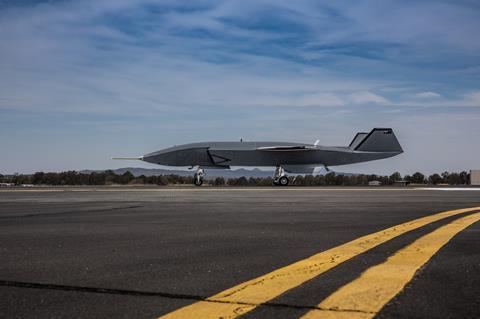 "[The Royal Australian Air Force] partners with industry to ensure we can find innovative solutions to meet our future priorities," adds Air Vice-Marshal Cath Roberts, head of Air Force Capability.
"Boeing's Loyal Wingman project is a perfect example of what this collaborative approach can achieve. Seeing the prototype take to the runway for this low-speed taxi test is an exciting moment – another significant development milestone ahead of its first flight."
Earlier this month, Boeing confirmed that the state of Queensland, Australia, will be the production centre for the aircraft, conditional on orders.
ATS is the first Boeing military aircraft to be designed outside the USA. It is also the first military aircraft to be designed, engineered and manufactured in Australia for over 50 years.