Boeing and the Royal Australian Air Force (RAAF) are continuing work with their developmental Airpower Teaming System (ATS) 'loyal wingman' aircraft, with two examples flying.
The second unmanned ATS has performed its maiden sortie in Australia, says Boeing.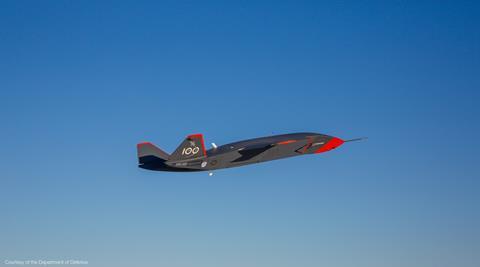 It did not provide details of the maiden flight of the second aircraft, but says work continues with the first ATS to expand its flight envelope. This aircraft had its maiden flight in February.
"It is so exciting seeing two aircraft in the air as the loyal wingman continues to excel in the flight-test programme," says Air Vice-Marshal Cath Roberts, the RAAF's head of Air Force Capability.
"This opens up significant capability agility for [the] air force, particularly with features such as the reconfigurable nose. We're heavily engaged in the payload development and the element of surprise that it gives us in the battlespace. You never really know what's in the nose."
The ATS's nose will be able to carry payloads for missions such as training, tactical early warning, and intelligence, surveillance, and reconnaissance. Moreover, the aircraft has space for weapons beneath its wings.
Boeing Australia, which is developing the aircraft in conjunction with the RAAF, says that flight test data is being used to refine the ATS's digital twin. This could help accelerate development of the aircraft, as the twin is reflective of all aspects of its lifecycle, from design to sustainment.
The flight tests of the first ATS have included the raising of the type's landing gear, adds Boeing.
"We're in a steady rhythm of flight testing on the way to mission and operational testing, enabling Boeing Australia, RAAF and our Australian industry team of more than 35 companies to progressively advance the flight characteristics and capabilities of the uncrewed teaming system," says Glen Ferguson, director of Boeing Airpower Teaming System – Australia and International.
On 1 November, Boeing Australia announced that the fifth ATS aircraft is in production at its Melbourne facility, which also produces the trailing edge for the wing of the Boeing 787.
Should the ATS receive orders, Boeing will establish a final assembly facility on Toowoomba, Queensland. The Boeing ATS is designed as an "attritable" loyal wingman UAV. The RAAF has ordered six examples.