The maiden sortie of the Boeing Airpower Teaming System (ATS) 'loyal wingman' was a historic occasion for the Australian aerospace sector – and symbolises the changing nature of aerial warfare.
The 27 February flight of the ATS at the Woomera test range came exactly two years to the day after the official unveiling of a mock-up at the Avalon air show in 2019. More impressively, the sortie took place just three years after the programme – a joint effort between Boeing Australia and the Royal Australian Air Force (RAAF) – kicked off.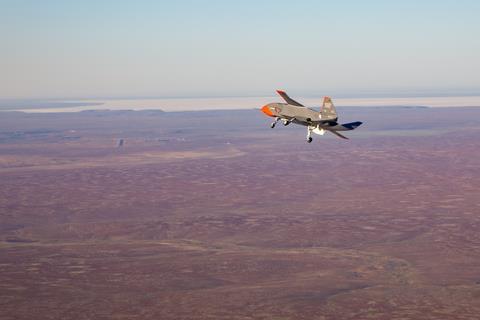 Boeing provided few details about the flight itself, other than to say that the prototype taxied autonomously, took off, conducted a pre-set flight plan, landed, and taxied back to original parking area. An RAAF video suggests the landing gear was not retracted for the duration of the flight, the length of which was not stated.
RAAF capability head Air Vice-Marshal Catherine Roberts declared the flight was nothing short of a "Wright brothers" moment for Australian industry. Indeed, ATS is the first combat aircraft designed and built in Australia for over half a century; you have to reach all the way back to the Second World War and the Commonwealth Aircraft Corporation's Boomerang, a piston-engined fighter, to find the previous example.
Initially, Canberra invested A$40 million ($30.1 million) in the programme and Boeing an undisclosed amount. This was to provide for the design and development of three prototypes. Immediately following the first flight, Canberra announced investment of a further A$115 million to add three additional examples.
With a length of 11.5m (38ft) the ATS is roughly the same size as the McDonnell Douglas A-4 Skyhawk. The aircraft is powered by a single engine that Boeing declines to identify, referring to it only as a "commercial turbofan engine". The aircraft will use artificial intelligence (AI) to perform operations and team with other manned and unmanned assets.
According to Boeing, the ATS has an impressive range of 2,000nm (3,700km), which compares with 1,500nm for the Lockheed Martin F-35A. The ATS's endurance doubtless reflects the extended ranges at which the RAAF operates. It also addresses the great distances that combat aircraft will need to traverse should a conflict break out in North Asia, where distances are great and airfields relatively few.
The aircraft's nose is essentially a large payload station, where different noses can be swapped in and out depending on the mission. Nose payloads will presumably be used for intelligence, surveillance and reconnaissance (ISR) applications.
The aircraft's wide fuselage and centre-mounted engine hints at ample space for weapons bays beneath the wings. But Roberts is non-committal on priorities for weapons integration and testing.
"I think there are obvious roles [for the loyal wingman] in terms of ISR," she says. "But we do talk about this being an air combat teaming system… in terms of having levels of kinetic and non-kinetic effects. [It's] not just ISR, but weapons and non-kinetic effects will be things that we look at with this particular programme."
The aircraft has a 'digital twin' which facilitated its rapid development. According to Shane Arnott, Boeing's programme director for the ATS, that virtual aircraft has already advanced far beyond its "first flight", racking up 10,000 virtual hours.
"We have been undertaking exercises, advancing the autonomous decision making capabilities of the airplane in a future environment, and working with the Royal Australian Air Force in the classified threat environment to look at what's coming next and making sure that we're ready for that when it comes," says Arnott.
Boeing has not specified the exact location where the ATS was designed and built, but has said it is near Brisbane, where the company has an extensive presence. In addition to constructing the prototypes, the work involved developing a production system to assemble the aircraft, which includes high levels of automation.
Arnott stresses that the ATS was not built like a typical prototype, where a team of highly skilled engineers assembles the aircraft manually.
"We've actually designed a real production system here, which includes quite a lot of automation and advanced manufacturing. The vast majority of this aircraft is actually assembled by robotics and advanced techniques. So we're proving out that future factory right now."
Malcolm Davis, senior analyst, defence strategy and capability at the Australian Strategic Policy Institute (ASPI) contends that the ATS marks a step change for the country's aerospace sector.
"This is a potentially transformative moment for Australia's aerospace sector in the sense that Australia has demonstrated an ability to design, develop, build and fly a clean-sheet combat aircraft – not just make components, but the complete platform, in just three years," he says.
"At this point it is simply incorrect to argue that Australia cannot design and build complex military systems – be they UAVs, advanced long-range missiles, or other military combat platforms."
In addition to Boeing and the RAAF, 35 other companies are involved in the work, including BAE Systems, Flight Data Systems, Microelectronic Technologies, RUAG Australia and Sperry Engineering.
Boeing's emphasis on ATS is not just focused on RAAF requirements, but on the US Air Force's Skyborg initiative, under which experiments will begin in the middle of 2021. Broadly, Skyborg sees the development and fielding of relatively inexpensive unmanned aircraft powered by AI, teaming with other manned and unmanned assets. A primary consideration is breaking the steep cost curve of combat aircraft development and acquisition, and being able to field large numbers of unmanned aircraft.
Pricing is a key metric. The USAF suggests that aircraft need to be priced from $2-20 million to be deemed "attritable". Skyborg has attracted interest from other defence players, such as General Atomics Aeronautical Systems and Kratos Unmanned Aerial Systems.
Should the ATS move beyond experimentation work and become a formal acquisition programme, Roberts is hesitant to state how many the RAAF might purchase, but states that ATS would be about "getting mass into our force mix". Acquisition numbers would be largely dictated by how well the platform teams with other aircraft and its effectiveness.
"Quantity has a quality all of its own, so swarms of low-cost loyal wingman-type platforms can exploit numbers (mass) to generate military effect in a more cost-effective manner than risking a small number of very expensive and very advanced F-35As," says Davis. "One of Australia's key problems is lack of combat sustainability. We have insufficient forces to sustain high-intensity operations – with all the risks of combat losses – for very long."
He believes greater use of automation across all the realms of combat – air, sea, and land – will greatly enhance the effectiveness of Australia's defence forces.
But much work remains to be done with ATS following its successful first flight. Arnott says a full flight-test programme is planned for 2021. Trials will include not just the first prototype, but follow-on examples. A major emphasis of the testing will be teaming between the ATS aircraft, as well as with manned platforms.
"[It's] the first time we've actually developed an aircraft using a collaborative capability model from an early concept to first flight in just three years, which is a remarkable timeframe," says Roberts.
"There is no better time to be involved in a project like this… it reminds me of the Wright brothers and what they would have experienced."

Greg Waldron is the Asia Managing Editor of FlightGlobal, responsible for the team's airline, aerospace, and defence coverage across the region. He has worked at the company since 2009. In the airline space, Waldron has conducted dozens of interviews with airline leaders in the Asia-Pacific. He also covers areas such as MRO and safety. On the defence beat, Waldron has written extensively about the rise of Chinese airpower, as well as broader airpower developments around the region, such as indigenous fighter programmes, and regional acquisitions of foreign equipment. In addition, Waldron writes about commercial helicopters in the region and business aviation. Waldron worked has a freelance journalist with his work appearing in several business publications.