Canada has been approved to purchase $313 million worth of armaments for a fleet of General Atomics Aeronautical Systems MQ-9B unmanned air vehicles (UAVs), despite the fact that Ottawa does not currently own any such aircraft.
The US Department of State, which has regulatory approval over arms exports, assented to a possible sale of munitions and other onboard systems on 15 September. The total package is valued at $313 million (C$420 million).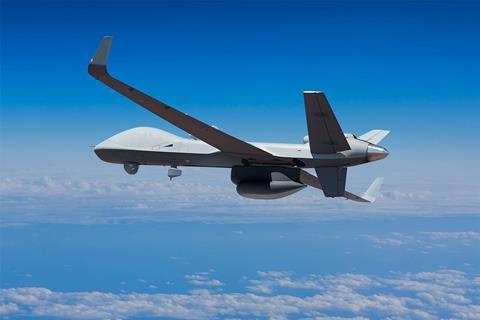 "This proposed sale will support the foreign policy and national security objectives of the United States by helping to improve the military capability of Canada, a NATO ally," the state department says.
The package includes 219 Lockheed Martin AGM-114 Hellfire II missiles, 18 Boeing Joint Direct Attack Munition tail kits and Mk82 general purpose bombs to be integrated with MQ-9Bs, which were requested by Ottawa according to the state department. It also would acquire 12 General Atomics Lynx multi-mode radars.
"The proposed sale will improve Canada's capability to meet current and future threats by enabling unmanned surveillance and reconnaissance patrols of its northern arctic territories," the determination notes.
However, the munitions are not likely to see active service right away.
Although Ottawa does have an open programme to acquire UAVs for the Royal Canadian Air Force (RCAF), the government has not yet issued a contract for the platform is it calls the Remotely Piloted Aircraft System (RPAS).
According to Canada's Department of National Defence, L3Harris and General Atomics were selected as finalists to be prime contractor for the RPAS programme, with the US government listed as a partner on the General Atomics bid. However, L3Harris withdrew from the competition in June 2022.
The RPAS project aims to spend up to $3.71 billion to acquire a fleet of remotely piloted UAVs to support intelligence, surveillance and reconnaissance missions, in addition to offering precision strike capability.
General Atomics has submitted its MQ-9B SkyGuardian, the latest iteration of the company's combat tested MQ-9A Reaper UAV, which itself evolved from the MQ-1 Predator.
The SkyGuardians for RPAS would be sold to Canada via direct commercial sales, according to the state department munitions approval.
L3Harris had assembled a coalition of suppliers for its RPAS bid, which the company is called Team Artemis. The now-defunct collective included ATCO Frontec, Canadian UAVs and the Canada-based subsidiaries of Airbus Defence & Space, Lockheed Martin and Pratt & Whitney.
The L3Harris Artemis bid was based on an Israel Aerospace Industries Heron TP, specially modified to meet Canadian specifications under RPAS. Among those specialty requirements is the ability to operate in cold weather environments.
Ottawa expects to complete evaluation of the General Atomics proposal by the end of 2023, with a contract to be awarded in 2024.
Delivery of the RCAF's first RPAS aircraft will take place between 2026 and 2027, with the UAV fleet reaching full operational capability by 2033.
Story updated 20 September to clarify that L3Harris withdrew its RPAS bid.

Ryan Finnerty is the Americas defence reporter for FlightGlobal.com and Flight International magazine, covering military aviation and the defence industry. He is a former United States Army officer and previously reported for America's National Public Radio system in New York and Hawaii covering energy, economics and military affairs.
View full Profile