Canada has deployed a small fleet of aircraft to search a remote area of the northern Yukon Territory for the wreckage of an unknown airborne object shot down on 11 February.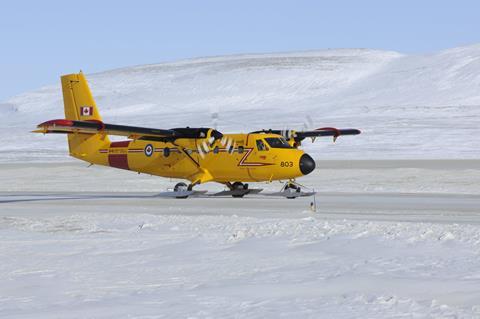 Canadian defence minister Anita Anand said on 14 February Ottawa has deployed a Lockheed Martin CC-130 Hercules transport, two De Havilland Canada CC-138 Twin Otter light transports, and several helicopters, including a Sikorsky CH-148 Cyclone and Leonardo CH-149 Cormorant maritime search and rescue craft, to support the effort.
"The debris is located in a remote location northeast of Dawson City, in complex alpine terrain that is prone to challenging northern weather conditions," Anand says.
The Twin Otter turboprops are specifically designed for operations in Canada's far north. Based on the De Havilland DHC-6, the CC-138 is capable of short take-offs and landings and can be outfitted with wheels or skis for landing on ground, snow or ice, according to the Royal Canadian Air Force (RCAF).
Canadian Prime Minister Justin Trudeau ordered the downing of the unidentified object on 11 February. The action was carried out by US Air Force (USAF) Lockheed Martin F-22 stealth fighters under direction of the joint Canada-US North American Aerospace Defense Command (NORAD) in Colorado Springs.
"Canadian and US aircraft were scrambled, and a US F-22 successfully fired at the object," Trudeau said of the episode. Both countries contribute aircraft, ground-based infrastructure and personnel to NORAD.
Canada's search for debris is being led by the Public Safety Canada agency, according to public safety minister Marco Mendicino, in collaboration with the Canadian armed forces and Royal Canadian Mounted Police.
South of the border, the US Federal Bureau of Investigation is leading efforts, alongside the US military, to recover other recently downed craft – a Chinese surveillance balloon downed off the coast of South Carolina and two unknown objects destroyed off the northern coast of Alaska and over Lake Huron.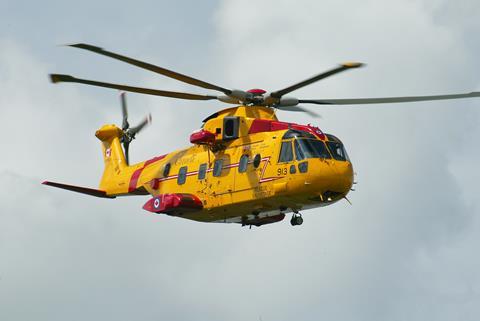 The Chinese surveillance balloon, which was downed on 4 February, also transited Canadian airspace before passing over the continental US. Canadian forces assisted the USAF in tracking and responding to the incursion.
NORAD commander USAF General Glen VanHerck on 12 February revealed that following the balloon overflight, the USA and Canada adjusted the settings on their network of airspace monitoring radars – making them more likely to pick up smaller, slower, non-traditional aircraft such as balloons.
VanHerck says the change is likely the reason for the recent spate of unknown object detections.
"That's why I think you're seeing these [incidents] overall," he notes.
Neither Washington nor Ottawa has yet determined the nature and origin of the mysterious craft, but authorities say they do not pose physical threats to people on the ground.
The airborne objects were shot down over concerns they posed a hazard to commercial aviation traffic, according to the Pentagon and the White House.