The China Aerospace Science and Technology Corporation (CASC) CH-4 unmanned air vehicle (UAV) has conducted a flight equipped with a new heavy-fuel engine.
The new engine will allow the UAV, which resembles the General Atomics MQ-9B Reaper, to operate at higher altitudes and with longer endurance, reports China's state-owned news outlet, Global Times.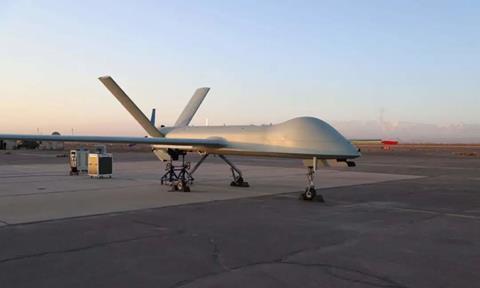 The report quoted Shi Wen, chief engineer of the CH series of UAVs.
During the flight, the UAV conducted an autonomous takeoff and landing, operated to waypoints, carried a full payload, and achieved the UAV's maximum altitude.
The report did not identify the date of the flight or the designation of the UAV's new engine, but quotes Shi as saying that it was developed domestically.
Heavy fuel is preferable for military applications, as it offers great energy density.
"With the new heavy-fuel aviation engine, the drone can remain in the sky for significantly longer, fly further, and reach higher cruise altitudes and ceilings. Its payload capacity has also increased by 30 to 50 percent", Shi said.
On-line sources suggest that the baseline CH-4 is powered by a piston engine, as opposed to the turboprops used on comparable western systems – the MQ-9 is powered by the Honeywell TPE331-10GD turboprop.
Brochures for the baseline CH-4 claim endurance up to 30h, and that the system is capable of surveillance as well as target acquisition. It also has the ability to carry ground-attack weapons.
At the Airshow China event in September 2021, a CH-4 appeared in the in the static park with what appeared to be an under-slung surface search radar.
Data from the Stockholm International Peace Research Institute suggests that 54 CH-4A/Bs have been exported. Iraq is the biggest recipient at 20 examples, and other recipients include Algeria, Indonesia, Laos, Pakistan, Saudi Arabia, and Sudan. Nigeria also has orders for 4 CH-4s.
Jordan received six CH-4Bs in 2016, but put them up for sale in 2019 after a brief service life.
Media reports have suggested that the CH-4 suffers performance and reliability issues, with spare parts and documentation also in short supply.