Chinese companies are promoting a range of systems for developing nations, including an armed China Aerospace Science and Industry Corporation (CASIC) WJ-700 unmanned air vehicle (UAV) and electronic warfare (EW) kits for helicopters and aircraft.
Chinese defence companies have a high profile at this year's Langkawi International Maritime and Aerospace (LIMA) show in Malaysia, where Beijing's August 1st display team is also appearing in the flying display.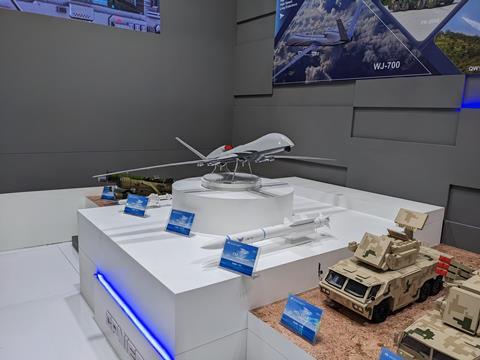 One Chinese exhibitor, the China National Precision Machinery Import & Export Corporation, bills itself as China's top missile supplier.
Its stand features a model of the WJ-700, which is being offered for export. A model of the turbojet-powered WJ-700 features four underwing hardpoints. These are equipped with two CM-102 anti-radiation missiles and two CM-502KG short-range anti-ship missiles.
In early 2021, images posted on Chinese social media showed a group of people at an undisclosed air base holding a banner celebrating the first flight of the high-altitude, long-endurance UAV, although imagery of an airborne WJ-700 has yet to appear.
Chinese state media has reported that the WJ-700 has undergone an extensive test programme in China, and that its endurance is 15h.
Separately, Chinese electronics firm CETC is promoting airborne EW kits. The JN1101-H 'Heilborne Communication EW System' can be integrated into rotorcraft such as the Russian Helicopters Mil Mi-17.
The system is optimised to disrupt air-to-air, air-to-ground, and ground-to-ground communications.
Another system, the JN1101-F, can be installed aboard medium and large fixed-wing aircraft, and is focused on the communications intelligence mission, as well as jamming signals.
CETC is also promoting a more compact EW system designated JN1101-U for use aboard UAVs.
"It is capable of flying deep into enemy territory and providing in-depth attack on enemy nodal points whereas posing no interference to its own communications," it says.
CETC also is displaying imagery of a powerful truck-based system, the JN1199, that can jam a range of frequencies used by both radios and radars. An illustration shows it jamming the radar of a Northrop Grumman E-2 Hawkeye, an airborne early warning and control aircraft used by countries such as Japan, Taiwan, and the USA.