Leonardo has completed a successful first flight of its Falco Xplorer unmanned air vehicle (UAV), with the roughly 60min sortie having been performed from Trapani air base in Sicily on 15 January. The milestone event was conducted in conjunction with the Italian air force's test flight centre, and used segregated airspace in the Gulf of Trapani.
"The remotely-piloted air system will now embark on a series of flight campaigns which will assess the aircraft's full range of capabilities, including its integrated sensor system," the company says. This activity also will look to expand the flight envelope for the UAV, "dramatically expanding the territory over which it can operate".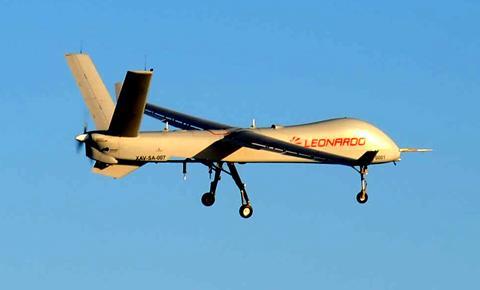 Unveiled at the Paris air show last June, the Falco Xplorer has a projected 24h flight endurance at a service ceiling of over 24,000ft. With a 1.3t maximum take-off weight, the intelligence, surveillance and reconnaissance (ISR) asset is capable of carrying multiple sensors, with a maximum payload capacity of 350kg (795lb).
Offered equipment includes Leonardo's Gabbiano T-80 surveillance radar, the company's Sage electronic intelligence suite, a turret-housed electro-optical/infrared sensor and an automatic identification system fit for monitoring maritime vessels. Third-party systems can also be integrated, the airframer says.
Leonardo describes its largest UAV product as "readily exportable around the world", and also is offering potential customers company-delivered ISR services.