French company Turgis & Gaillard has unveiled a developmental medium-altitude, long-endurance (MALE) unmanned air vehicle (UAV) named Aarok.
The company has discussed Aarok with the French military and parapublic agencies, says Jean-Francois Ferlet, a military advisor to the company and a former French air force general.
Turgis & Gaillard will also discuss the programme with foreign delegations at this week's Paris air show.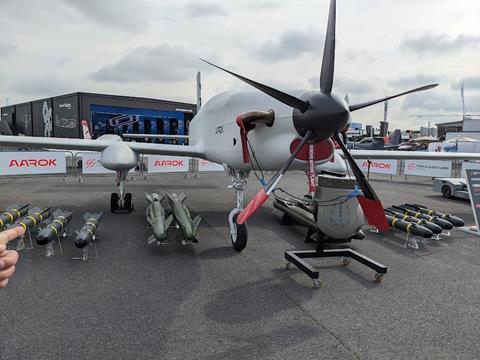 Ferlet says the first flight is planned before the end of 2023, but with a pilot on board. The company will work with regulators to define the path towards unmanned flights.
Should Aarok be adopted by a customer, initial operational capability could be attained by the end of 2025. Ferlet says that the system will be comparable to the General Atomics Aeronautical Systems MQ-9 Reaper, which is already in service with France.
Aarok will be able to perform "multi-domain operations against peer competitors" and monitor large swathes of land and sea.
Ferlet says that that while the UAV's 1,200hp (883kW) turborprop engine, landing gear, and other systems are off the shelf, the airframe is entirely new.
Payloads can include a Safran electro-optical/infrared sensor, synthetic aperture radar, signals intelligence, and electronic warfare systems.
An armed version is also envisaged, equipped with Safran's AASM Hammer guided munition and the Lockheed Martin AGM-114 Hellfire anti-tank missile.