The head of General Atomics Aeronautical Systems (GA-ASI) has criticised Washington DC for not approving the provision of unmanned air vehicles (UAVs) such as the MQ-9 Reaper and MQ-1C Gray Eagle to Ukraine.
According to GA-ASI chief executive Linden Blue, the company has held extensive discussions with the US government about providing high-altitude, long-endurance systems to Ukraine to help in its struggle against Russia's invasion, but that the talks have drawn a blank.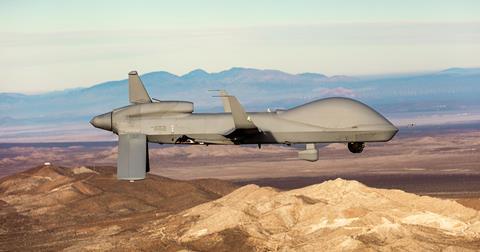 He even reveals that the company has offered two company-owned training aircraft, related equipment, and training for the "symbolic price" of $1 per system.
"We have offered to train Ukrainian operators on these systems at no cost to US taxpayers or the Ukrainian government," says Blue.
"We have offered flexible options and recommendations for delivery. We have discussed the situation endlessly at every level of the US federal government, and with many international partners."
He says the systems would help Ukraine obtain the "information dominance" required to win the war.
In mid-2022 Reuters reported that the US Department of Defense intended to sell four MQ-1C Gray Eagle UAVs to Ukraine. The proposed transaction had undergone extensive review at the Pentagon, but still required the approval of the Department of State and Congress.
"Many of the additional costs associated with readying these aircraft for combat, outfitting them with the necessary equipment, transporting them to Ukraine, setting up operations in that country, obtaining satellite bandwidth and providing additional supporting labour, are outside of our control," says Blue.
"Our estimates for launch and ongoing operations do not include one penny of profit to our company."
In addition to providing extended intelligence, surveillance and reconnaissance capabilities, both the MQ-1C and MQ-9 can carry weapons, including the Lockheed Martin AGM-114 Hellfire missile.
"Factoring in hardware and training that is essentially free, the offer is a remarkable deal with no strings attached," adds Blue. "All that is required is approval from the US government. Our goal is now, and has always been, to help the Ukrainian armed forces defend and protect their homes and families, and help bring a rapid closure to this conflict before more lives are lost."
While the administration of US President Joe Biden has provided robust military support for Kyiv, it has shied away from larger airborne platforms, namely fighter jets such as the Lockheed F-16.
The USA has, however, sent smaller tactical UAVs, such as the Boeing Insitu ScanEagle.
Tactical UAVs have played a prominent role in the Ukraine conflict. Kyiv has made extensive use of the Baykar TB-2 Bayraktar and other systems. Russia, for its part, makes extensive use of its Orlan-10 UAV, which reportedly relies heavily on western electronics.