General Atomics Aeronautical Systems (GA-ASI) remains hopeful of an MQ-9B SkyGuardian unmanned air vehicle (UAV) sale to Australia, following the cancellation of a major requirement in 2022.
Warren Ludwig, director international strategic development Australia and Southeast Asia at GA-ASI, says it is possible that Canberra's upcoming Defence Strategic Review could see the platform reintroduced.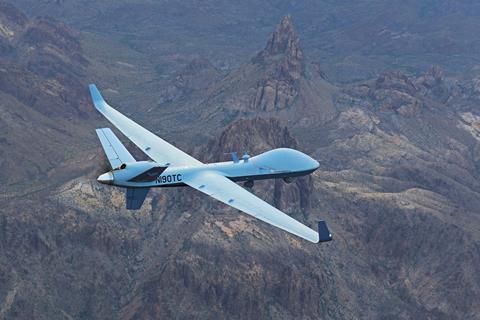 The MQ-9B had been selected for the Project Air 7003 requirement for the army, but in April 2022 Canberra abruptly cancelled the deal a few months before the expected signature of a letter of acceptance under the US government's Foreign Military Sales process.
The original programme called for 12-16 examples to be obtained.
"We've still got people under contract in our industry team as a show of good will," says Ludwig. "That whole industry team is just in abeyance."
GA-ASI's partners in the deal include a number of international and Australian companies, including Leidos, CAE, Quickstep, TAE Aerospace, and Raytheon Australia.
Ludwig feels that there remains a clear Australian need for the MQ-9B in a number of missions.
He observes that Canberra is obtaining the Lockheed Martin HIMARS system. "Long-range fires" such as HIMARS will require the targeting capability offered by the MQ-9B, particularly for mobile targets.
"There is no point having these fancy long-range fires if you can't identify the target," says Ludwig.
He adds that while Australia is obtaining the Northrop Grumman MQ-4C Triton, this aircraft will focus on strategic intelligence, surveillance and reconnaissance (ISR) over the ocean, while smaller systems do not offer sufficient range and endurance for army long-range fire missions.
He says that the MQ-9B can also enhance the situational awareness of Canberra's pending fleet of Boeing AH-64E Apaches. He believes that the war in Ukraine has illustrated the challenges attack helicopters face on the modern battlefield, and that manned-unmanned teaming can greatly enhance an attack helicopter's capabilities.
In addition, the MQ-9B can identify long-range targets passively in the maritime environment and pass them onto the "kill web". The MQ-9B can also drop and monitor sonobuoys, freeing up valuable maritime patrol aircraft for other work.
The MQ-9B's lower cost per flight hour especially lends it to this role, which Ludwig calls "dull and dirty".
Apart from its hope that the Australian Army obtains MQ-9Bs, GA-ASI is also eyeing future ISR requirements from the Australian Border Force, for which it feels its aircraft is also well suited.