General Atomics Aeronautical Systems (GA-ASI) has secured a US government contract related to MQ-9B SkyGuardian unmanned air vehicles (UAVs) for Taiwan.
The value of the US Air Force contract is $218 million and covers four MQ-9Bs, according to a US government contract announcement.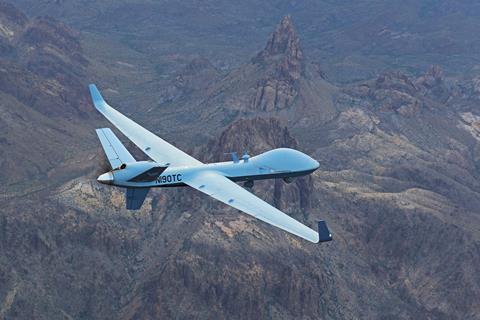 Also included are a pair of control stations, spare parts, and support equipment. Contract completion is expected in May 2025.
In September 2022, a Facebook post by a Taiwanese legislator said that a deal had been signed for the four UAVs.
The country's move to obtain the four UAVs followed a US government Foreign Military Sales (FMS) case announced in November 2020, which listed the total value of the aircraft and related support and spares at $600 million.
High-altitude, long-endurance UAVs are seen as an effective means to monitor China, which has ratcheted up military threats against its neighbour in recent years. Beijing deems the democratically run island as part of its sovereign territory, and routinely conducts air and sea incursions against Taipei.
The original FMS case for the UAVs detailed an intelligence, surveillance, and reconnaissance payload, specifying the L3 Wescam MX-20 multi-spectral targeting system, Raytheon SeaVue maritime multi-role patrol radar and Leonardo Sage 750 electronic surveillance measures system.
Communication equipment requested included C-band line-of-sight ground data terminals, Ku-band satellite communication transportable earth stations, BAE Systems identification friend or foe DPX-7 transponders, M6000 UHF/VHF radios, Raytheon KIV-77 Mode 5 identification friend or foe cryptographic appliques, and PYQ-10C simple key loaders.
"This proposed sale will improve the recipient's capability to meet current and future threats by providing timely intelligence, surveillance and reconnaissance, target acquisition, and counter-land, counter-sea, and anti-submarine strike capabilities for its security and defence," said the US Defense Security Cooperation Agency in the original FMS case.
"The capability is a deterrent to regional threats and will strengthen the recipient's self-defence."