General Atomics Aeronautical Systems and Kratos have secured additional funding related to their work on the US Air Force's (USAF's) Skyborg Vanguard programme, which seeks to develop autonomous combat aircraft.
The USAF's Fighters and Advanced Aircraft office awarded a contract option worth $13.2 million to Kratos and up to $7 million to General Atomics.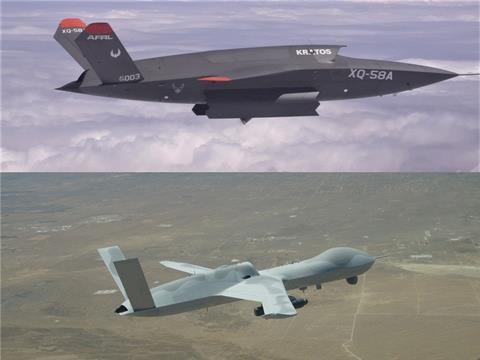 The funds will help to further advance the integration of the programme's Autonomous Core System (ACS) into Kratos's XQ-58A Valkyrie and General Atomics' MQ-20 Avenger unmanned air vehicle (UAV) platforms.
Upcoming work will include future capabilities through teaming of manned and unmanned systems at "large force test events". This will provide data for the continued development of the programme.
"These contract actions, while tactical in nature, are strategically important to this Vanguard as we continue to discover and learn how we will employ this advanced technology in the fight," says USAF Brigadier General Dale White.
"The team has always been committed to transitioning Skyborg to a programme of record, and we'll be ready in 2023 as the air force prepares its FY23 [fiscal year 2023] President's Budget submission early next year."
In July, the USAF said that the Skyborg ACS had piloted an MQ-20 UAV during a flight test, demonstrating that the technology can be adapted to different types of aircraft.
Two months earlier, the ACS was demonstrated in flight using a Kratos UTAP-22 Mako UAV.
Skyborg is an open, modular system that enables UAVs to autonomously fly, navigate and communicate. The military sees Skyborg as the brains behind future "attritable" UAVs – a new class of inexpensive unmanned aircraft that can be replaced at minimal cost if lost to combat attrition.