General Atomics Aeronautical Systems (GA-ASI), the San Diego-based manufacturer of combat unmanned air vehicles (UAVs), is preparing for the flight testing phase of development on a secretive new platform the Pentagon hopes will substantially increase the range of existing air-to-air weapons.
The company on 11 September said it is poised to begin airborne testing for the LongShot programme in 2024, under contract from the secretive US Defense Advanced Research Projects Agency (DARPA).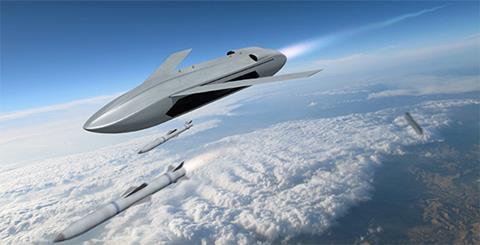 Begun in 2020, LongShot aims to deliver an uncrewed, air-launched demonstrator vehicle able to carry and deploy existing air-to-air missile systems. The goal of the programme, according to DARPA, is "significantly increasing" the engagement range and effectiveness of existing air combat platforms.
General Atomics was competitively selected by the agency in 2020 to develop a prototype LongShot design.
"Over the last three years, GA-ASI has iterated on numerous vehicle designs to optimise performance and will complete the design en route to flight testing in 2024," the company says. "The testing will validate basic vehicle handling characteristics and lay the foundation for follow-on development and testing."
The LongShot concept is specifically targeted at existing fourth-generation fighters, such as the Lockheed Martin F-16 and Boeing F-15. While sensor and avionics upgrades have substantially increased the capabilities of fourth-generation platforms, their lack of stealth technology makes the aircraft vulnerable to modern air defences.
An uncrewed missile carrier like LongShot would allow the radar-visible fighters and their pilots to launch air-to-air missiles, while remaining safely out of range of enemy defences – a concept the Pentagon calls "stand-off".
LongShot pairs stand-off with another nascent idea in modern air combat, that of the "missile truck". While the US Air Force and US Navy have robust fleets of stealthy fifth-generation fighters, these aircraft have more limited payloads, restricted by the need to store weapons internally.
The missile truck concept envisions using un-stealthy, but high-payload fighters such as the F-15EX or Fairchild Republic A-10 as airborne support to low-observable Lockheed F-35s.
Under such a scenario, an F-35 could penetrate enemy airspace to identify targets and clear anti-air defences, with fourth-generation missile truck aircraft subsequently moving in to provide an extra wave of combat fire power.
"The objective of the LongShot programme is to disrupt the paradigm of air combat operations," DARPA says, "by demonstrating an unmanned air-launched vehicle capable of employing current air-to-air weapons."
General Atomics says the LongShot flight testing will validate basic handling characteristics of the air-launched vehicle and lay the foundation for follow-on development and testing.
"Flight testing will validate digital designs that have been refined throughout the course of the project," says Mike Atwood, senior director of advanced aircraft programmes at GA-ASI.
The milestone in the DARPA project comes as the Pentagon undertakes a major effort – known as the Replicator Initiative – to develop and rapidly field large numbers of autonomous aircraft.
The strategic programme aims to offset China's numerical advantage in air and naval power in the Indo-Pacific through massing of cheap, pilotless aircraft and precision missiles.

Ryan Finnerty is the Americas defence reporter for FlightGlobal.com and Flight International magazine, covering military aviation and the defence industry. He is a former United States Army officer and previously reported for America's National Public Radio system in New York and Hawaii covering energy, economics and military affairs.
View full Profile