One of the world's most popular unmanned air vehicles (UAVs) will soon gain the ability to launch from short runways or amphibious assault ships.
General Atomics Aeronautical Systems (GA-ASI) says it will produce a short take-off and landing (STOL) modification kit for its MQ-9B remotely piloted aircraft.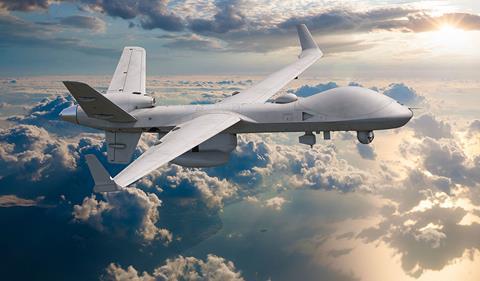 Between the MQ-9 Reaper, and the MQ-9B SeaGuardian naval and SkyGuardian civil variants, the UAV is employed by more than a dozen foreign countries and US government entities.
General Atomics says modifying MQ-9s to allow for short take-offs and landings will allow the type to operate in a wider variety of environments, including from shorter land-based runways and smaller aircraft carriers like the US Navy's America-class amphibious assault ships.
GA-ASI president Dave Alexander says his company is designing a conversion kit that will allow MQ-9s to be easily converted for STOL flight.
"Essentially it is a wing and tail kit that can be installed in less than one day," Alexander says.
"The core aircraft and its sub-systems don't change. This is a mod you could make in a hangar or on a flight line somewhere. Take a standard MQ-9B, put the STOL kit on, and then go fly it."
The MQ-9B STOL's wings will fold, meaning it could be parked on the decks or in the hangar bays of aircraft carriers or big-deck amphibious assault ships, just like other naval aircraft. Operators will be able to start the aircraft, unfold the wings and take off over the bow, without needing help from shipboard catapult systems.
General Atomics believes the US Navy and US Marine Corps will take note of the STOL innovation, which will open the door to MQ-9Bs performing persistent and long-range intelligence, surveillance and reconnaissance operations over blue water.