The US Marine Corps (USMC) will purchase eight MQ-9A Reaper unmanned air vehicles from General Atomics Aeronautical Systems (GA-ASI), the company said on 17 July.
The Reapers, which are destined for a Hawaii-based UAV squadron, will be the extended range (ER) variant of the battle-tested aircraft.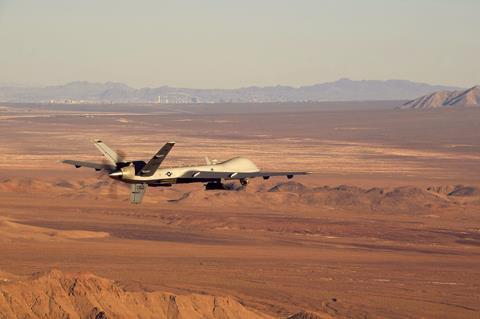 "This capability will be a key [intelligence, surveillance and reconnaissance] contributor for the Marine Air Ground Task Force – and ultimately for US Indo-Pacific Command – as we pace ourselves to outmanoeuvre our adversaries," says Patrick Shortsleeve, GA-ASI vice-president for strategic development with the US Department of Defense.
The ER variant of the MQ-9A extends the remotely piloted aircraft's endurance to 34h compared to 27h on the standard model, according to GA-ASI. The added flight time is achieved through modifications including wing-borne fuel tanks and reinforced landing gear to handle the extra weight.
GA-ASI will begin delivering aircraft and support equipment this winter to facilitate the fleet stand-up in late summer 2023. The UAVs will go to Marine Corps Air Station Kaneohe Bay in Hawaii, where they will support the 3rd Marine Littoral Regiment (MLR), based in the same area.
In March 2022, the USMC re-designated the 98 year old 3rd Marine Regiment as 3rd MLR, under a controversial plan from USMC Commandant General David Berger known as Force Design 2030.
The plan calls for a significant re-design of how marine units are structured and equipped, with an eye toward optimising for combat in the Indo-Pacific, presumably in a future conflict against China.
A USMC statement announcing the creation of 3rd MLR noted that the formation would be "organised, trained, and equipped to support sea control and sea denial operations in actively contested maritime spaces".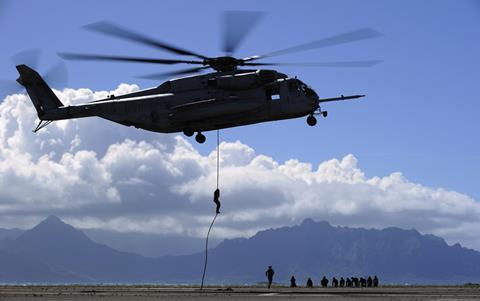 The force redesign plan includes substantial reductions in overall aviation assets, including the divestment of aircraft from three heavy-lift Sikrosky CH-53E Super Stallion squadrons, three medium-lift tiltrotor Bell Boeing V-22 Osprey squadrons and two light attack squadrons that fly the Bell AH-1W Super Cobra and Bell UH-1Y Venom.
Those divestments are driven by a proposed reduction in marine infantry battalions, which require aviation support for transport, sustainment and lethal fires.
By comparison, the USMC plans to increase unmanned aerial assets in the Indo-Pacific theatre across what Force Design 2030 calls "a family of UAS capabilities".
It specifically notes a desire to acquire UAV platforms that can operate from either ship-based or shore environment with the ability to carry lethal payloads and intelligence collection assets.
Berger has stated his intent that the restructuring be budget-neutral, using savings from divested assets to fund the proposed changes, including equipment acquisition and modernisation.
"The recommendations… result in potential savings of $12 billion to be reallocated towards equipment modernisation, training modernisation, and force development priorities," Berger wrote in the March 2020 plan.