Chinese companies have revealed several ambitious unmanned aircraft programmes at this year's instalment of Airshow China.
Media reports suggest that this year's show, held in the Chinese city of Zhuhai near Macau, is sparsely attended owing to China's tough "zero-Covid" policy, which has limited local attendance and precluded international visitors.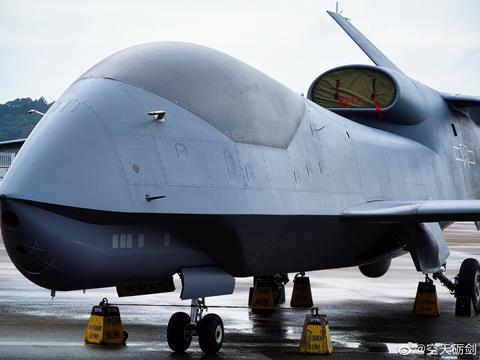 Reuters reports that visitors were told to arrive in Zhuhai three days before the show opened on 8 November, so as to pass all Covid-19 testing requirements. Some delegates were even turned away from the event.
As per Zhuhai tradition, a number of fascinating unmanned concepts are on display. The China Aerospace Science and Technology Corporation is displaying a "loyal wingman" concept model designated the FH-97A, which is all but identical to the Boeing's MQ-28 Ghost Bat unmanned aircraft developed in Australia.
Unlike the Boeing aircraft, the FH-97A features two engines. It also sports an electro-optical targeting system on top of the fuselage, suggesting the aircraft will be primarily intended for air-to-air missions.
A computer-generated video posted on YouTube shows four FH-97As launching from a runway and collaborating with a single Chengdu J-20 fighter on a prospective combat mission. The aircraft is equipped with advanced datalinks, and "several micro-intelligent" infrared-homing air-to-air missiles carried internally.
The video shows the FH-97A evading an air-to-air missile, and shooting down an enemy aircraft that has locked onto the tail of the J-20.
On display at the show's static park is the CS-5000T, a blended-wing unmanned air vehicle (UAV) that brings to mind the Lockheed Martin RQ-170 Sentinel.
Though festooned with "Remove Before Flight" tags, it is not clear if the aircraft is a mock-up or a flying aircraft. Images from before event show the aircraft resting on jacks, with two civilian personnel on top of the aircraft, one apparently making an adjustment with an electric screwdriver.
Imagery suggests another similar blended-wing UAV is also on display in the static park, but again its development status is uncertain.
Still, the show offers clear signs of progress in Beijing's UAV development. According to Chinese state media, UAVs such as the Guizhou WZ-7 Soaring Dragon, AVIC WZ-8, and Chengdu WZ-10 are all displayed in the Zhuhai static park.
The WZ-7 has participated in China's aerial incursions against Taiwan, while the status of the rocket-powered WZ-8 is unclear. It is believed that the type is carried aloft by a host aircraft, probably the Xian H-6N bomber, and then performs a high-speed, high-altitude reconnaissance sortie before recovering on a runway.
Social media from this year's show suggests that electronic warfare is a key role for the WZ-10.
AVIC is also showing several UAVs from its Wing Loong family, including the show debut of the Wing Loong 1E, which had its maiden flight earlier this year. Global Times suggests that the Wing Loong 1E has improved performance over the original Wing Loong, including a greater weapons payload. The example on display at Zhuhai carries nine weapons across four hardpoints.
AVIC also displaying a model of a new member of the Wing Loong family, the Wing Loong 3. According to China Daily, the Wing Loong 3, with a wingspan of 24m (78ft), has nine hardpoints can carry up to 16 weapons.
In addition to its strike capabilities, the Wing Loong 3 will also be capable of intelligence, surveillance and reconnaissance missions, as well as communications relay work.
While the development status of many of the UAVs on display this year at Zhuhai is unclear, Beijing has shown clear progress developing UAV capabilities in the last two decades, with types such as the WZ-7 and Wing Loong 1 and 2 in active service.
Western defence planners will closely watch programmes such as the FH-97A and other UCAV concepts on display at Zhuhai. While the People's Liberation Army Air Force – and western air forces, for that matter – is likely years away from fielding a UCAV that uses artificial intelligence (AI) to aid pilots, the potential of such assets in a conflict is clear.
Even if they lack the advanced AI capabilities generally envisaged for loyal wingman UCAVs, large numbers of low-cost, "attritable" Chinese UCAVs would be a highly effective way to saturate and expose enemy air defences. Such systems are bound to be a key focus of future iterations of Airshow China.