Israel Aerospace Industries (IAI) has secured deals to provide two Heron Mk II unmanned air vehicles (UAVs) to an unnamed country in Central Asia.
The two deals, which the company says are valued at "tens of millions of dollars", will see one example sold and one example leased.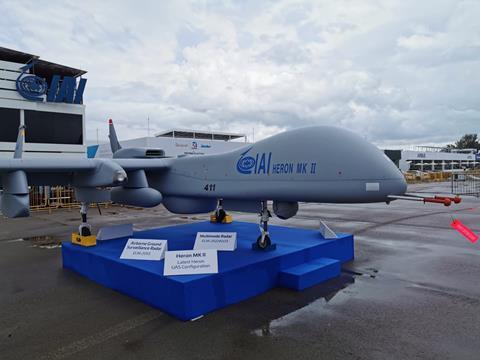 The package includes land arrays, reconnaissance payloads, and the two UAVs.
"The systems will operate in a land configuration and will carry out different missions, border protection among them," says Moshe Levy, general manager of IAI's Military Aircraft Group.
"The Heron Mk II UAVs can land on any airstrip and can maneuver under extreme weather conditions. I am certain that these deals will open the door to additional Heron MK II deals."
IAI adds that the Heron Mk II can operate at an altitude of 35,000ft and travel at 140kt (259km/h), and has an endurance of 45h. In addition to its "long-range reconnaissance sensor" and radar, it can also carry communications intelligenc) and signals intelligence packages.
IAI promoted the Heron II at 2020's Singapore Airshow. Speaking at the show, Levy said that the aircraft is eminently suitable for the maritime surveillance role as well, including the deployment of miniature sonobuoys.