India's Defence Research Development Organisation (DRDO) has conducted a test involving a flying wing unmanned air vehicle.
The test took place on 1 July, with the aircraft taking off, following waypoints, and landing, says India's defence ministry.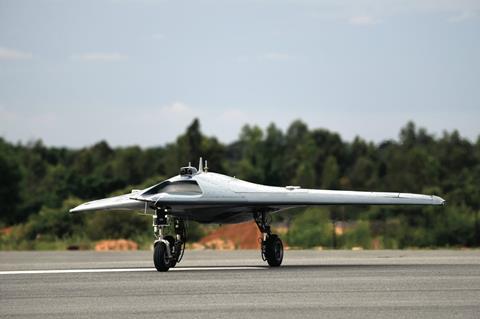 "The [UAV] is designed and developed by Aeronautical Development Establishment, Bengaluru, a premier research laboratory of DRDO," says the defence ministry. "It is powered by a small turbofan engine. The airframe, undercarriage and entire flight control and avionics systems used for the aircraft were developed indigenously."
The DRDO posted an image of an aircraft that resembles western unmanned combat air vehicle (UCAV) designs. It also posted footage of the UAV taking off and landing.
The video footage, however, varies from the still image because the UAV has a single vertical stabiliser.
#DRDOUpdates | Successful Maiden Flight of Autonomous Flying Wing Technology Demonstrator@PMOIndia https://t.co/K2bsCRXaYp https://t.co/brHxaH7wbF pic.twitter.com/SbMnI5tgUM

— DRDO (@DRDO_India) July 1, 2022
In addition, the UAV is very small. During take-off, it is smaller than a windsock it passes in the background, and its main undercarriage is barely wider than the stripe down the middle of the runway.
"This flight marks a major milestone in terms of proving critical technologies towards the development of future unmanned aircraft and is a significant step towards self-reliance in such strategic defence technologies," says the defence ministry.