Indonesian Aerospace has rolled out the first prototype of a medium altitude long endurance (MALE) UAV for which it sees a number of domestic missions.
The aircraft was unveiled on 30 December 2019 at Indonesian Aerospace's Bandung factory, says the company, also known as PTDI.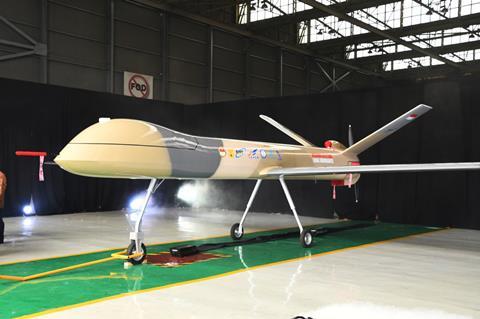 Dubbed 'Elang Hitam' – Indonesian for Black Eagle – the aircraft has a conventional planform with a V-tail, pusher-propeller, a high aspect ratio, and tricycle landing gear.
The aircraft has a wingspan of 16m and a length of 8.65m. The aircraft's payload will be 300kg, and it will be able to land on a 700m runway, or take-off on a 500m runway. It is envisaged as having a maximum endurance of 30h and a cruising speed of 127kt.
Two prototypes will be built and used for both flight and structural tests. The company hopes to attain a type certificate from the Ministry of Defence's Feasibility Centre in 2021, and a full military type certificate by 2023, which will include weapons.
Indonesian media reports quote company president Elfien Goentoro as saying a first flight is planned in 2020.
Media reports that sensor payloads will include a synthetic aperture radar, but the first prototype appears to lack sensors, such as an electro-optical/infrared turret. The aircraft is powered by Rotax engine from Austria. The aircraft can be remotely operated via satellite.
Indonesian Aerospace adds that the flight control system is of European origin, coming from Spain.
One Indonesian official was quoted as saying that Jakarta has a preference for developing its own UAV to build its technology base, and that foreign suppliers of UAVs "won't give key technologies for free."
The company has been working on the project since 2015. After extensive studies, 2019 saw the commencement of manufacturing work for the two prototypes, including tooling and the production of composite parts in an autoclave.
Missions envisaged for the type include surveillance to counter problems such as terrorism, smuggling, piracy, forest fires, as well as illegal logging and fishing.