Insitu, the Boeing-owned developer of autonomous systems, has revealed what it calls a vertical take-off and landing (VTOL) version of its Integrator uncrewed aerial vehicle (UAV).
The new aircraft, which the company calls Integrator VTOL, combines the conventional Integrator airframe with a separate system to enable vertical take-off, known as the Flying Launch and Recovery System (FLARES).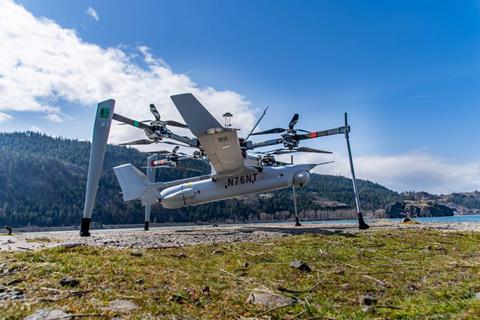 Insitu unveiled Integrator VTOL at the Navy League's Sea Air Space conference near Washington DC on 3 April. The company is proposing the package to the US Navy (USN).
The Integrator is in service as a surveillance and reconnaissance craft with the USN, under the designation RQ-21 Blackjack.
The conventional version of the type requires a pneumatic catapult for launch. However, FLARES uses a detachable, all-electric quadcopter-style package to lift the Integrator body off the deck of a ship.
Once aloft, the Integrator's internal jet-fuel engine kicks on to power conventional horizontal flight. FLARES then detaches and returns to the launch site, leaving the UAV to complete its mission.
"We're ready to take it to the fight," Insitu's vice-president of engineering Justin Pearce tells FlightGlobal.
The use of a detachable package for vertical flight saves significant weight, Pearce explains, allowing the Integrator VTOL the flexibility of vertical take-off, while preserving its 16h flight endurance and 18kg (40lb) payload capacity.
Insitu chief executive Diane Rose describes Integrator VTOL as a "no compromise" UAV.
"Customers can finally have it all: vertical launch and recovery with industry-leading payload capacity and endurance for their most-critical missions, even in the most-extreme maritime environments and sea states, without sacrificing valuable transport, deck or hangar space."
As with the conventional Integrator, the FLARES variant is recovered using a vertical arresting wire to catch the UAV in flight.
However, with the VTOL variant, the arresting wire is suspend using the electric FLARES system, rather than a separate suspension system.
Once the Integrator is recovered, FLARES returns to the ship deck.