Insitu, the Boeing-owned developer of unmanned air vehicles (UAVs), sees opportunities in the Asia-Pacific for the new vertical take-off and landing (VTOL) capability designed for its Integrator UAV.
Andrew Duggan, managing director of Insitu Pacific, notes that navies in the region tend to operate smaller warships with limited space available for helicopter and UAV options, and that the new VTOL system can save space aboard warships, while offering a long-endurance fixed-wing UAV capability.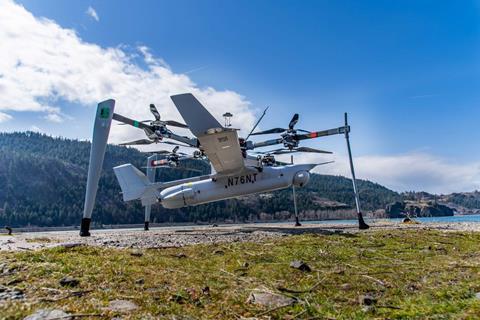 "Users have been giving us feedback for a while that they want to operate a helicopter and a UAS (unmanned air system), and if they have no helicopter they want to still be able to have an aviation asset on the ship," says Duggan.
Duggan spoke with FlightGlobal at the recent Imdex Asia naval show in Singapore.
In April, the company unveiled the Integrator VTOL, which combines the conventional Integrator airframe with a separate system to enable vertical take-off, known as the Flying Launch and Recovery System (FLARES).
Integrator now requires a pneumatic catapult for launch, but FLARES uses a detachable, all-electric quadcopter to lift the UAV and drop it at a sufficient height. The fixed-wing UAV then performs its mission.
The UAV is later recovered by an arresting cable carried aloft by FLARES. The arresting cable is designed to be higher than the superstructure of a warship – this feature also lends itself to operations in jungle and urban areas.
The entire package can be carried on a Lockheed Martin C-130 pallet or slung beneath a helicopter such as a Sikorsky UH-60 Black Hawk.
On the broader UAV market, Duggan notes that global sanctions regimes imposed on various state actors means that governments are increasingly interested in monitoring ships. This is especially important in Asia, where a vast portion of the world's maritime trade is conducted.
"The agencies of the world want to understand what's on a ship, has it been to an area that's been questionable… or is it meeting up with another vessel in the middle of the strait somewhere," he says.
"There's a lot more interest in that kind of sanctions busting behaviour."
He adds that the cost of electronics and sensors mean that smaller UAVs now offer capabilities that a few years ago were only available on much larger systems.
On the lessons the war in Ukraine hold for UAV makers such as Insitu, Duggan says that the conflict highlights the critical importance of electronic warfare. He contends that a small UAV such as Integrator is a very effective way of performing the electronic intelligence mission.