A UK research company that investigates illicit arms trafficking says Russian forces recently employed Iranian-sourced drones containing US-made components during attacks against Ukraine.
Conflict Armament Research (CAR) says in a 23 November report that an investigation team operating in Ukraine from 2-5 November identified the wreckage of Shahed-131, Shahed-136 and Mohajer-6 unmanned air vehicles (UAVs) – all of which the group says were made in Iran.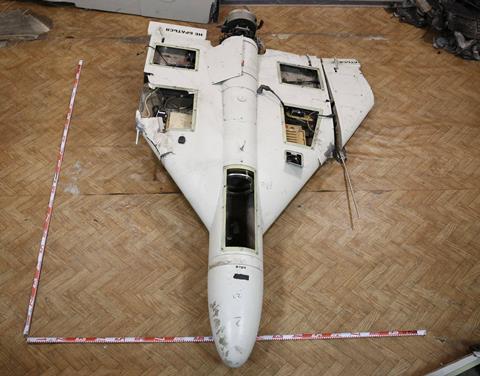 "CAR reached the conclusion that the UAVs documented in Ukraine are of Iranian origin based on visual comparison of six different physical features," the report says.
It identified the drones by comparing components – cabling, labelling, airframe structures, servo motors, mechanical gyroscopes and part and serial numbers – with other Iranian UAVs it had documented in the Middle East between 2017 and 2022.

"The similarities in components across these systems strongly suggest that these UAVs share a common manufacturing origin in Iran," CAR says. Investigators also identified one Iranian Qaem-5 precision-guided munition.
CAR says the wrecked aircraft reveal Iran has made substantial progress in advancing the capabilities of its UAV platforms, citing improved accuracy and incorporation of satellite navigation, which allow Shahed-131s and Shahed-136s "to operate in non-permissive environments".
Iran achieved the improvements through incorporation of US and other Western-sourced components, despite widespread economic sanctions from both the USA and UN banning the sale of such goods to Iran, CAR's report says.
Investigators documented components originating with 70 manufacturers in 13 countries. US-made hardware was particularly prevalent in the UAVs, despite Washington's near total embargo on trade with the Islamic Republic.
US companies made 82% of the components. Of parts for which a manufacture date could be determined, 56% were produced after 2020 and 81% were produced after 2017 – well after the US-imposed economic sanctions.
CAR's report does not disclose the parts' manufacturers.
The findings cast doubt on the "previously held view" that Iran's military UAV programme is based on domestic defence production capabilities, after being restricted from foreign technology under the sanctions regime, the report says.
"The Shahed-131, Shahed-136 and Mohajer-6 UAVs are in fact highly dependent on components and technologies produced outside Iran," CAR concludes.
"Iran has been able to circumvent current sanction regimes and has added more capabilities and resiliency to its weapons," CAR's report says. "The Shahed-131 and Shahed-136 UAVs that CAR documented in Ukraine include high-end components, such as semiconductors and tactical-grade inertial measurement units, that have been sourced outside Iran."
By contrast, the report says, Iranian drones CAR previously examined in the Middle East "featured commercial off-the-shelf autopilots, accessories commonly seen in the hobbyist UAV community and custom circuit boards of a much lower quality and older design era".
CAR has not yet determined how Iran accessed restricted components. It will continue to investigate "the exact chains of custody of military equipment and related commodities that result in their presence in Russian and Iranian weapons".
The presence of aircraft resembling Iranian Shahed-131s and Shahed-136s in Ukraine has been widely documented on social media. The types function as what CAR calls "single-use" systems, more commonly known as loitering munitions or kamikaze drones.
Tehran and Moscow initially denied the UAVs came from Iran. However, Iranian foreign minister Hossein Amirabdollahian on 5 November acknowledged the Islamic Republic supplied "a limited number of drones to Russia", but insisted the aircraft were transferred to Moscow before the start of the war in February.
Drones, including both military UAVs and commercial quadcopters modified for combat, have become a ubiquitous part of the Russo-Ukraine war, with both sides declaring them essential assets.
In July, the head of US Special Operations Command said the proliferation of cheap and widely available UAVs has the power to upend the conventional military order.