Korea Aerospace Industries (KAI) and Israel Aerospace Industries (IAI) have signed an additional memorandum of understanding (MoU) for a loitering munitions programme.
The focus of the programme will be loitering munitions that support the SEAD (suppression of enemy air defences) and DEAD (destruction of enemy air defences) roles, say the companies in a joint statement.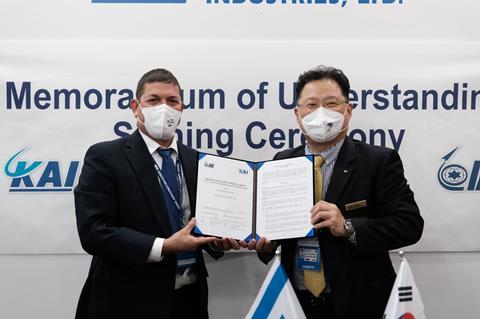 "With the goal of leading the future of unmanned aerial vehicles [UAVs], we are dedicated to developing next-generation unmanned aerial vehicle technology, and we will develop solutions that meet various customer needs," says KAI executive vice-president Chang Heon Han.
The MoU appears to build on a previous UAV/loitering munition MoU the two companies signed in March 2011. The earlier MoU provided few details about the nature of the work, but the Korea JoongAng Daily reported a KAI official as saying that the focus would be on manned/unmanned teaming (MUM-T), specifically between KAI's developmental Light Attack Helicopter (LAH) and air-launched loitering munitions.
In March, KAI also signed an MoU with Elbit Systems related to UAVs. The new KAI/IAI MoU was signed at the Seoul ADEX defence show.
At the show, the KAI stand has a mock-up of a KUH-1 Surion helicopter optimised for amphibious assault missions as well as MUM-T. The helicopter is depicted with pylon-mounted launcher for four loitering munitions.
A KAI video released for the ADEX show also depicts loitering munitions being launched from a pod within the cabin of a Light Armed Helicopter.
"MUM-T is a new concept that is still being studied in advanced countries such as the United States and Europe, and is an asymmetric futuristic weapon system that increases the survivability of manned aircraft and dramatically improves operational efficiency," says KAI.