Korean Air and Airbus Helicopters plan to develop unmanned air vehicles (UAVs) with a vertical take-off and landing capability for South Korea's military.
At a ceremony in Seoul, Jung-woo Park, head of Korean Air's Aerospace Business Division (KAL-ASD), and Bruno Even, chief executive of Airbus Helicopters, signed a memorandum of agreement (MOA) for the work, says Korean Air.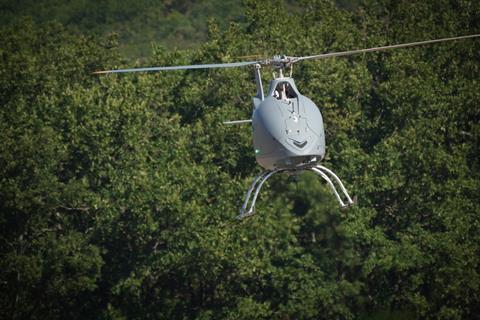 The MOA will see the two companies develop shipborne UAVs for the South Korean navy that can perform reconnaissance missions.
The work will bring together KAL-ASD's experience in developing UAVs, as well as Airbus Helicopters' work on its VSR700 programme, adds Korean Air.
The European company is developing the VSR700 as an intelligence, surveillance, target acquisition and reconnaissance (ISTAR) platform that is capable of operating autonomously from naval vessels.
Korean Air gave no details of timelines for the programme, or subsequent steps.
UAV development is a focus area for Korean Air's KAL-ASD division. In August, Seoul tapped Korean Air as the "preferred bidder" to develop low observable UAVs that can work with manned aircraft in combat.
This followed Korean Air's establishment of a "next-generation stealth drone research & development" centre in June.
At the Seoul ADEX defence show in October 2021, Korean Air signed a memorandum of understanding to team up with Boeing unit Insitu to develop a lightweight tactical UAV with the ability to take-off and land vertically.
At ADEX, Korean Air also promoted its developmental KUS-VS UAV, which uses what the company calls "lift & cruise" technology, whereby independent rotors provide cruise and lift. Four horizontal rotors are used for take-off and landing, but these are switched off during flight, with a single vertical rotor providing forward thrust.
In the 2010s KAL-ASD developed the 500MD, an unmanned helicopter based on the Hughes MD500, for which Boeing provided expertise derived from its H-6U Little Bird effort.