Korean Air's Aerospace Division (KAL-ASD) is researching a range of advanced unmanned air vehicle concepts, as it also explores a new tiltrotor.
KAL-ASD is working with South Korea's Agency for Defense Development (ADD) on two unmanned combat air vehicle (UCAV) concepts in the form of its KUS-FC and KUS-LW, models of which are on display at the company's stand at the Seoul ADEX show.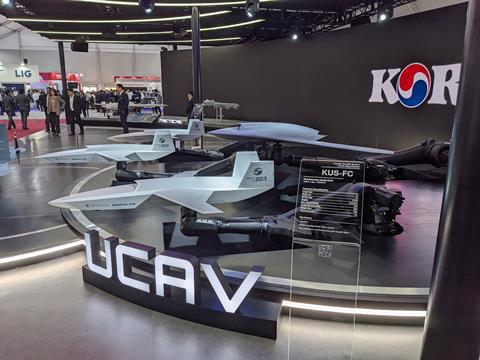 The KUS-FC is a stealthy, tailless flying wing design. It is optimised for stealth with the engine intake on top of the fuselage, a feature that will help hide the vehicle's engines from ground-based radars. When actually produced the aircraft will be large, with a width of 20m (65ft 6in) and a length of 12m.
KAL-ASD lists both military and commercial applications. Military missions could include communications relay, electronic warfare (EW), as well as intelligence, surveillance and reconnaissance (ISR). Parapublic missions could include maritime and border surveillance.
The KUS-LW, with twin canted tails, resembles the Boeing MQ-28 Ghost Bat. KAL-ASD pitches it as a "next generation stealth loyal wingman". As with the KUS-FC, the KUS-LW features an engine intake on the top of the fuselage.
The aircraft, which will feature a high level of autonomy, is seen performing missions such as strike, multi-platform EW, and ISR. The models on display suggest the KUS-LW will be equipped with weapons bays on either side of the fuselage.
A Korean Air representative says that a pair of prototypes will be developed for each platform.
In August 2022, Seoul named Korean Air as the "preferred bidder" in a programme to develop a low observable unmanned air vehicle (UAV) to work with manned aircraft in combat. The programme falls under the auspices of an ADD programme to develop new weapon systems, and envisaged the development of "stealth UAV squadrons".
This followed Korean Air's winning a contract in October 2021 from the Korea Institute for Defense Technology Planning and Advancement to develop a low observable UAV to advance South Korea's stealth technology.
The project involved producing a UAV that aids the development of radar absorbing materials and a low observable shape that can be applied to future UAVs.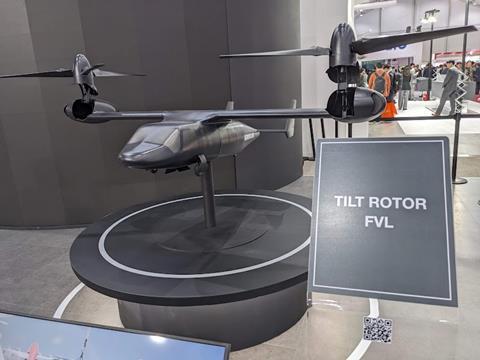 In addition, KAL-ASD is conducting basic research on a tiltrotor design resembling the Bell V-280 Valor. Longer-term, the aircraft could serve as a replacement for South Korea's fleet of Sikorsky UH-60P helicopters, as well as other types.