Korean Air is set to begin mass production of its Medium Altitude Unmanned Aerial Vehicle (MUAV), while its 500MD unmanned helicopter effort is on hold.
The company confirms that the development of the MUAV programme is nearly complete, and mass production is imminent.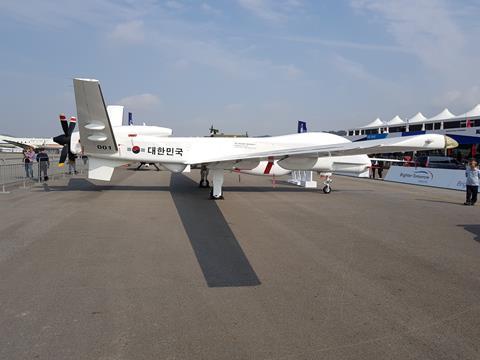 "We are looking into overseas partnerships and considering various options," adds the company.
Citing customer sensitivity, however, it declines to detail the number of examples that will be produced, or when the type will enter service.
A full-sized mock-up of the MUAV, also designated KUS-15, was on display at last year's Seoul ADEX defence show. The MUAV is intended to provide surveillance of South Korea's challenging geopolitical neighbourhood, particularly of nuclear-armed North Korea.
The company's 500MD programme, which would see elderly MD Helicopters MD500s converted into armed unmanned rotorcraft, is "currently on hold as military requirements and funding are still pending".
Discussions continue with the South Korean government on the programme. Until the 500MD programme is moving again, follow-on plans to create unmanned versions of older Sikorsky UH-60s and Northrop F-5s are also in limbo.
In regard to Seoul's ISTAR (intelligence, surveillance, target acquisition and reconnaissance) requirement for four aircraft, Korean Air still holds periodic discussions with partner Raytheon.
The pair, which signed an agreement at ADEX in 2019, will use a Bombardier Global 6500 business jet for their offer. Raytheon, acting as prime contractor, will provide "multiple intelligence" (Multi-INT) technologies. Korean Air will perform aircraft modification work should their eventual bid be successful.
"While extending the capabilities of its current [UAV] fleet, Korean Air is also looking to extend its programme to include stealth UCAVs [unmanned combat air vehicles], manned to unmanned conversions of multi-purpose helicopters, unmanned CAVs [cargo air vehicles], UAM [urban air mobility] and 2h-endurance hybrid powered drones," it says.