Korean Air has secured a government contract to develop a low-observable unmanned air vehicle (UAV) to advance South Korea's stealth technology.
The contract award came from the Korea Research Institute for Defense Technology Planning and Advancement (KRIT), says Korean Air.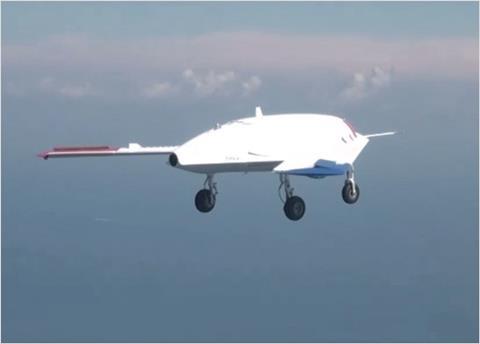 The project involves producing a UAV that aids the development of radar absorbing materials and a low observable shape that can be applied to future UAVs.
The company already has experience with low observable UAV work. From 2010 to August 2021, it developed and tested a UAV prototype that features low-observable characteristics. This was part of the Agency for Defense Development's stealth UAV project.
Korean Air says that from 2013 to 2016, it was able to reduce the UAV's radar cross section (RCS) through the use of what it refers to as "multi-functional composites".
In addition to its airline operations, Korean Air has extensive involvement in the aerostructures and the MRO business through its KAL-ASD aerospace division.

On 28 September, South Korea's Defense Acquisition Program Administration said that KRIT has developed "four core technologies" related to low-observable UAVs.
These include reducing a UAV's RCS through the its structure, and radome technology that can "selectively transmit or shield" various wavelengths.
The other areas are stealthy, built-in antennas and "lightweight radio wave-absorbing paint technology", which also reduces a UAV's RCS.
Updated: Korean Air provided clarifying details about the programme, and the UAV in the pictures.