Seoul has named Korean Air as the "preferred bidder" in a programme to develop a low observable unmanned air vehicle (UAVs) that will work with manned aircraft in combat.
The programme falls under the auspices of an Agency for Defense Development (ADD) programme to develop new weapon systems. The work envisages the development of "stealth UAV squadrons."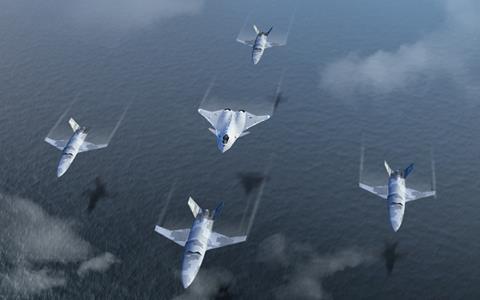 "The ADD began developing the UAV squadron in November last year and has completed the basic design," says Korean.
"The agency plans to work on the detailed design with Korean Air. Korean Air will develop a manned-unmanned teaming system in which one manned aircraft and three to four stealth UAVs can carry out missions simultaneously."
In addition to supporting manned aircraft, the UAVs will be able to perform missions on their own, such as surveillance electronic warfare, and even kinetic attacks.
In October last year, Korean Air secured a government contract from the Korea Institute for Defense Technology Planning and Advancement (KRIT) to develop a low observable UAV to advance South Korea's stealth technology.
The project involves producing a UAV that aids the development of radar absorbing materials and a low observable shape that can be applied to future UAVs.
This followed previous work as part of the ADD's stealth UAV programme from 2019 to August 2021.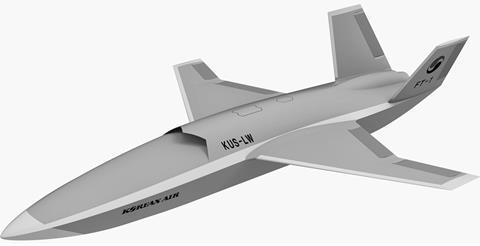 The idea of so-called "loyal wingman" aircraft that can accompany manned assets into combat has emerged as a major theme in defence aerospace.
The US Air Force's Skyborg programme envisages "attritable" unmanned aircraft working with manned fighters in a complex teaming environment. Unmanned aircraft such as the Kratos XQ-58 Valkyrie and Boeing Australia MQ-28 Ghost Bat have been developed to explore the concept.
Given South Korea's strategic location in an increasingly tense region, large numbers of UAVs that could compliment manned assets have a clear appeal.