The US Air Force (USAF) and defence contractor Kratos successfully flight tested an autonomous jet aircraft, known as the XQ-58A Valkyrie.
During a 3 November quarterly earnings call, Kratos chief executive Eric DeMarco said the company recently completed flight tests on a production model XQ-58A at the Yuma Proving Ground in Arizona.
"Block II Kratos Valkyrie production aircraft recently demonstrated extended capabilities by flying longer, higher, at a heavier mission weight and a longer range than ever before," DeMarco says.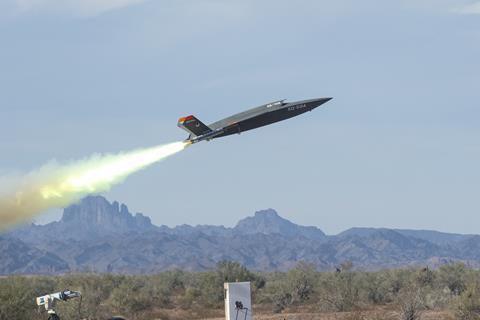 He adds that the flight achieved a key milestone for the Air Force Research Laboratory, which is partnered with Kratos to develop autonomous flight technologies.
Under its Collaborative Combat Aircraft (CCA) programme, the USAF is seeking to pair autonomous, unpiloted, combat-equipped jets with the service's conventional fighters. USAF leaders say their Next-Generation Air Dominance (NGAD) initiative seeks to produce the "family of systems" that will team a crewed fighter with autonomous support.
The recent test flight of the autonomous Valkyrie was conducted using an encrypted communications package, Kratos says, that included redundant back-up systems. The XQ-58A "navigated to the landing site in a simulated loss of communications scenario", before landing itself in the target zone.
Kratos calls this a demonstration of the jet's "key autonomous capability" that allows for landing and recovery, even without radio communication. The company says the ability to fly and land without radio signal will "help mitigate the possibility of enemy detection and tracking of RF comms emissions as the system returns to base".
Kratos plans to build an initial production lot of 12 Valkyries, which the company says it is on track to complete in 2023.
"We are in the process of deciding on a subsequent Valkyrie serial production run, including… with our three new customer opportunities over the next few months," DeMarco says, without revealing the names of those potential buyers.
During his earnings report, he also revealed that Kratos will compete for a new classified programme under the CCA effort, which DeMarco describes with the umbrella term "tactical drone".
That classified initiative will included a "competitive fly-off" for the USAF in 2024.
"Multiple recent statements and data points from the Pentagon signal a future with hundreds or thousands of drone systems, consisting of several different types, with different capabilities and different cost points," DeMarco says.
He argues that Kratos is currently the only company on the market "with a family of low-cost expendable, disposable and attritable drones flying today".
The company reported an $8 million loss in the third quarter.