American aerospace technology developer Kratos says it is several years ahead of competitors in the work of developing the pilotless jet fighters that the US military intends to acquire in the coming decades.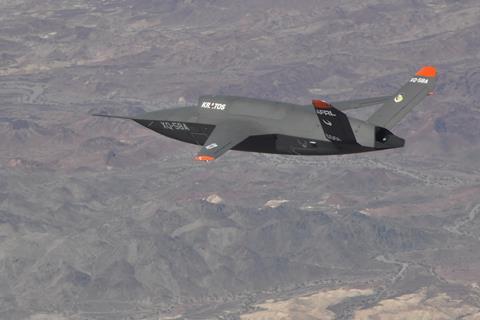 The company is designing and testing several tactical unmanned aerial vehicles (UAVs), most notably the XQ-58 Valkyrie low-observable autonomous combat jet.
In a 3 May call with investors, Kratos chief executive Eric DeMarco described the company as holding a wide lead over competitors in developing the technology.
"We believe that if a competitor elected to enter this class of affordable tactical jet drones, they are at least three to four years away from first flight, at who knows what cost to the customer," DeMarco says.
By contrast, Kratos is already flying Valkyrie and holds contracts with the US Air Force (USAF) and US Navy (USN) to deliver multiple XQ-58s. Both services are exploring the type as a possible autonomous teammate for pilots flying fifth-generation fighters (like Lockheed Martin F-35s) and still-conceptual sixth-generation fighters.
The USAF's Next-Generation Air Dominance programme aims to deliver a sixth-generation successor to the Lockheed Martin F-22 Raptor. The USN has an equivalent development effort, known as F/A-XX, which seeks to deliver a carrier-based sixth-generation platform.
Leaders of both services envision piloted sixth-generation fighters as being the nucleus of fighter groups that would include numerous uncrewed jets. The USAF calls the concept "collaborative combat aircraft" (CCA) and is testing XQ-58s for the role.
The USN similarly seeks to develop "autonomous wingmen" aircraft under its Penetrating Affordable Autonomous Collaborative Killer programme. The service contracted with Kratos in January to acquire two Valkyries for the initiative.
While those two US services are the only known XQ-58 customers, DeMarco says Kratos is negotiating additional contract awards that it expects to secure in the coming months.
He adds the company has "numerous" contracted test flights planned through 2023.
"Kratos is the only company with affordable, high-performance, American-made jet drones flying today," says DeMarco. "We are focused on continuing to expand our first-to-market leadership position."
A relative newcomer to the defence space – compared to legacy aircraft designers such as Boeing, Lockheed and Northrop Grumman – Kratos lacks the high-margin, mature production contracts that have delivered soaring profits to some competitors.
While the firm's revenue in the first three months of 2023 increased 18% year-on-year to $231 million, Kratos posted a first-quarter loss of $7 million.
Chief financial officer Deanna Lund largely attributes the loss to the low-margin, developmental nature of the firm's aircraft and its "predominantly fixed-price" agreements. Margins from fixed-price contracts tend to narrow during times of inflation because the deals prohibit firms from passing higher expenses to customers.
Lund expects Kratos's margins will improve in the second half of 2023 as new contracts accounting for higher costs take effect.
Executives also expect Kratos's revenue will climb thanks to new contracts. CEO DeMarco notes Kratos recently completed its Block I production of 12 Valkyries in Oklahoma City and has started another production run covering 12 XQ-58 Block IIs.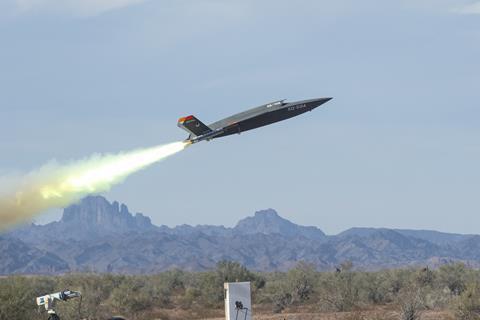 Half the aircraft in that second group will be newly designated Block II-Bs – equipped with "a new additional capability based on specific, very recent customer input", says DeMarco.
Without disclosing details, he says Kratos holds Valkyrie-related customer-funded contracts involving "development and testing of autonomy and pilot-vehicle interfaces, ground and flight operations, and additional Valkyrie test-flight related events".
DeMarco notes the US Marine Corps, which falls under the USN for aircraft procurement, is focused on pairing Valkyries with F-35s to provide electronic warfare support.
Kratos also won part of a $400 million USAF research and development contract in the first quarter, under the Air Force Research Laboratory's Advanced Aerospace Systems Technology Research programme. Several competitors – Boeing, Raytheon, General Atomics Aeronautical Systems, Lockheed, and Northrop – also received funding as part of the effort.
Additionally, Kratos is developing multiple hypersonic vehicles, including an internally funded system called Erinyes and a newly-announced platform DeMarco says the company calls "Dark Fury".
But Valkyrie remains Kratos's marquee product and most-promising revenue stream.
The USAF and USN eventually aim to acquire numerous autonomous jet aircraft that cost much less than advanced piloted fighters. DeMarco says Kratos can deliver on that requirement: Valkyries cost $6.5 million each at low-quantity production, a fraction of an F-35's cost, says DeMarco. "We believe the Kratos tactical jets flying today are recognised as the most-affordable in their class."
While F-35 costs have declined as that programme matured, a single F-35A is still priced at roughly $70 million. Short take-off and vertical landing F-35Bs, and carrier-capable F-35Cs cost more.
Even older designs, such as the latest version of Boeing's fourth-generation air superiority fighter – the F-15EX – are vastly more expensive than Valkyrie, though also more capable.
But the USAF envisions a future of so-called "affordable mass" – with large numbers of cheap and "attritable" CCAs augmenting smaller numbers of manned fighters.
In 2 May congressional testimony, USAF secretary Frank Kendall confirmed CCAs will cost "a fraction of the cost of an F-35".
"Our analysis shows they are very cost effective," Kendall says. "It can make the force much more affordable. You get a lot more combat power for the same total dollars."
Kendall also revealed that the USAF is close to creating an official CCA programme of record – a major step toward acquiring such an aircraft.