Kratos and Australian firm Hypersonix Launch Systems have agreed to develop a hypersonic drone named the DART AE.
The DART AE will be capable of performing multiple missions, say the companies. It will be produced through additive manufacturing using what the companies call "exquisite high-temperature materials".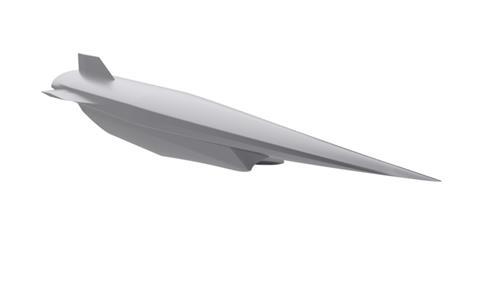 Kratos will supply the rocket booster and its digital engineering capabilities, while Hypersonix will provide the drone's main powerplant, a "clean hydrogen scramjet engine" that has a published range of 270nm (500km).
According to the companies' grant submission to the Australian Department of Industry, Science Energy and Resources, a DART AE demonstration flight will take place in 2023.
The Kratos booster will power the DART AE to over Mach 5 and release it, at which point the scramjet will power the vehicle along a pre-set path to a designated landing spot.
"Kratos is excited to team up with Hypersonix on this innovative project and we look forward to supporting their development and the integration and flight of this truly disruptive and enabling Australian technology," says David Carter, president of Kratos's Defense Rocket & Support Services Division.
"DART AE is an ideal opportunity for Kratos to further showcase our extensive hypersonic launch system capability."
Though the two companies do not provide examples of DART AE missions, a cost-effective hypersonic drone would be useful for the USA and allies to test defensive systems designed to counter hypersonic systems developed by China and Russia. Kratos has a long history of supplying target drones.
According to its website, Hypersonix's goal is the create sustainable hypersonic technology powered by green hydrogen. The company says that it aims to "disrupt the global aerospace and satellite launch markets".
The announcement coincides with Canberra's establishment of a 'hypersonics research precinct' in Brisbane. According to defence minister Peter Dutton, the precinct will allow companies, schools, and international partners a location to advance hypersonics technology.
"It's a complex technological challenge to build vehicles capable of flying at five times the speed of sound, that skim the stratosphere, to target any location on the planet," says Dutton.
"The technology that is developed here will help us to better defend against the malign use of this technology and give us the ability to strike any potential adversaries from a distance and deter aggression against Australia's national interests."
Updated with details of new hypersonics research precinct.