The seat of Russia's government has been attacked by an apparent unmanned aerial vehicle (UAV) strike in the heart of Moscow.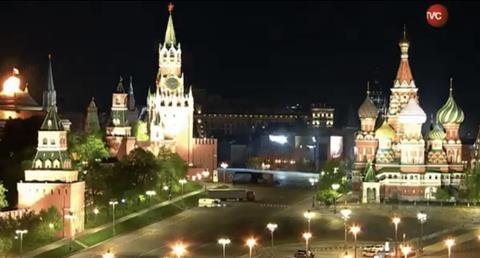 State-owned news outlet RIA Novosti on 3 May said two UAVs were "aimed" at the Kremlin, the sprawling complex adjacent to Red Square in central Moscow that serves as the centre of Russia's government and houses President Vladimir Putin's residence.
"As a result of timely actions taken by the military and special services with the use of radar warfare systems, the vehicles were put out of action," RIA says. "As a result of their fall and the scattering of fragments, there were no victims and material damage."
Unverified video circulating on social media purportedly showing the incident depicts an unidentified small object crashing into the domed roof of the Russian senate building, located just behind the Kremlin's iconic red brick walls, sometime at night.
The object impacts just below the Russian tricolour fluttering at the dome's pinnacle and explodes on the surface, showering the green roof with flames.
A separate video shared by RIA shows the fiery impact juxtaposed with the iconic colourful onion domes of nearby St Basil's Cathedral.
It remains unclear if the UAVs were armed or meant to be used as suicide vehicles. There is also no word yet as to what type of aircraft were used in the attack.
Moscow is describing the incident as a "planned terrorist attack and an assassination attempt" against Putin, who was apparently not on site when the event occurred. Moscow mayor Sergey Sobyanin subsequently issued a local ban on small commercial drones operated by civilians. Such flights had already been restricted by federal authorities since May 2022, according to independent Russian news outlet Meduza.
The Kremlin quickly assigned blame to the government of neighbouring Ukraine, where Russia has been fighting an offensive war of territorial expansion for the past year.
Another video of a drone attack on the #Kremlin has appeared, but from a different angle. pic.twitter.com/nlS9UjFY2Z

— NEXTA (@nexta_tv) May 3, 2023
Kyiv is pushing back against those allegations, with a representative of Ukrainian President Volodomyr Zelensky denying the government's involvement.
"We don't have information about any so-called night time attacks on the Kremlin," says press secretary Sergii Nykyforov. "As President Zelensky has repeatedly said, Ukraine is devoting all of its efforts and resources to the liberation of its own territories, not to attacking other countries."
Ukraine has made successful battlefield use of a variety of UAVs during the ongoing war, including with Baykar Bayraktar TB-2 remotely piloted craft from Turkey and AeroVironment Switchblade 300 loitering munitions from the USA.
Almost exactly one year ago, the country's armed forces sank two Russian naval patrol boats using Bayraktar-launched missiles. In April 2022, Ukraine managed to sink the flagship of Russia's Black Sea Fleet, the Moskva, with an anti-ship missile, apparently after confusing the ship's air defences with UAV flights.
TB-2s also played critical roles in defending Kyiv during the war's opening days.
Reportedly, this is the moment when a drone hit the Kremlin. pic.twitter.com/MiUob8fSV9

— Anton Gerashchenko (@Gerashchenko_en) May 3, 2023
In 2022, the head of the USA's Special Operations Command noted that cheap, widely available UAVs are disrupting the traditional global military order, giving less-advanced governments and paramilitary groups air power options.
Ukraine may be preparing for a major counter-offensive in the country's east – a looming battle analysts and military leaders suspect could be pivotal in determining the outcome of the conflict.
There have been several drone strikes in recent days against targets in Russia and Russian occupied territories. An oil depot in Russia's southern Krasnodar region was struck recently, as was an airport in Bryansk.
A fuel storage site in the occupied city of Sevastopol, located on the strategically and psychologically important Crimean Peninsula, was also hit by a UAV attack on 29 April, igniting a massive blaze.
Russia's government has a history of issuing misleading or outright false statements about the conflict in Ukraine, which Moscow refuses to refer to as a war – preferring the moniker "special military operation". The Kremlin repeatedly denied any plans to invade its neighbour in 2021 and early 2022, dismissing the build-up of troops along the Russia-Ukraine border as military exercises.
American intelligence officials have previously accused Russia of planning so-called "false flag" attacks – meaning attacks by governments against their own forces or facilities for the purpose of creating false pretext for larger military actions.