A reported US plan to sell the General Atomics Aeronautical Systems MQ-9 unmanned air vehicle (UAV) to Taiwan will complicate Beijing's incessant prodding of the island's defences.
Media reports indicate that the value of the potential Reaper sale is $400 million, part of an overall package worth $3 billion. Based on previous Foreign Military Sales (FMS) deals involving the Reaper, Taipei could end up with four examples of the medium-altitude, long-endurance (MALE) system. These could potentially be the SeaGuardian variant, which is optimised for maritime surveillance.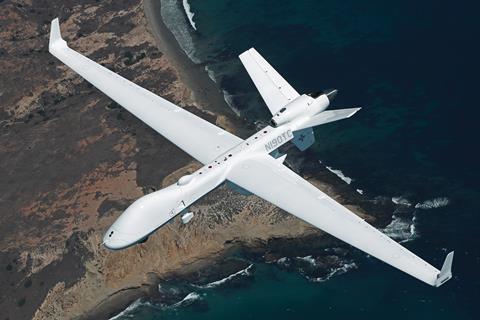 The potential Taiwan deal emerged after the Trump administration's decision in July to modify the USA's adherence to the Missile Technology Control Regime (MTCR). An informal pact among 35 countries that originated in 1987, the MTCR is intended to prevent the proliferation of weapons of mass destruction through exports of delivery systems, such as cruise missiles. In recent years, however, it has effectively curtailed US UAV exports.
Beijing vociferously opposes all arms sales to Taiwan. It will protest bitterly should the US Congress approve the overall package. It claims Taiwan as a breakaway province, and 2020 has seen it ramp up tensions by sending fighters and reconnaissance aircraft to probe Taiwan's air defences.
Beijing also took a dim view of September's 'Agile Reaper' exercise by the US Air Force (USAF), which was designed to show the type's effectiveness against peer competitors. The exercise saw a trio of Reapers deployed to a remote location and emphasised maritime awareness.
"Agile Reaper is about beating adversary targeting cycles as we get MQ-9s into any location, rapidly relaunch, and create effects, before the enemy detects and targets us," said USAF Lieutenant Colonel Brian Davis, 29th Attack Squadron commander.
"We're putting penetrating, persistent, multi-role aircraft over the battlespace where least expected. This provides reduced-risk, low-cost options to our leaders that present asymmetries to potential adversaries. It's combat initiative… this is strategic audacity."
In a none-too-subtle illustration of the "potential adversaries" Davis spoke of, a commemorative patch issued for the exercise depicted a skeletal grim reaper superimposed with a cross-hairs over a map of China.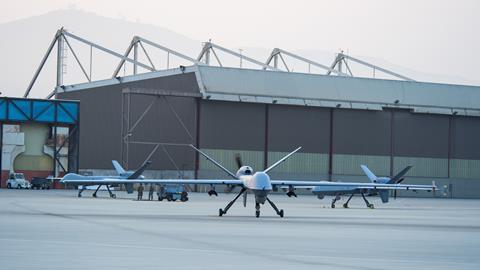 China's nationalistic Global Times newspaper was not impressed.
"The MQ-9 is not worth worrying about for China, because it does not possess stealth capabilities and flies at a low speed and low ceiling, which makes it an easy target for ground-to-air missiles," said a military expert in the report.
Still, MQ-9s operating from Taiwan could turn out to be worrying indeed. Irrespective of the path the USAF takes with the MQ-9 as it seeks to improve UAV survivability and capability, notably through its MQ-Next initiative, in the Taiwan context the MALE asset's value lies firmly in deterrence.
Preventing China from attempting to forcefully take Taiwan is the foremost challenge for Taiwanese defence planners, and a high priority for their US counterparts. Two recent think tank reports see a definite role for MALE UAVs in achieving this aim.
In an April 2020 report, the Center for Strategic and Budgetary Assessments (CSBA) described a key role for UAVs in great power competition, citing Taiwan as an example.
"Persistent UAS orbits along the littoral areas of the PLA's [People's Liberation Army's] Eastern and Southern theatre commands could detect abnormal military activities, such as the amassing of PLA amphibious forces near Taiwan, which may signal an impending amphibious operation against Taiwan," says the report.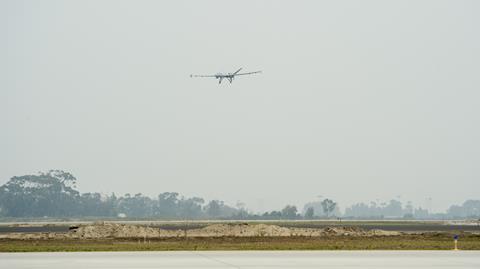 In June, China-focused think tank Project 2049 issued a report detailing the role of UAVs in defending Taiwan, referencing the CSBA report. It notes that Beijing has rapidly built its UAV capabilities in recent years, which would come to bear in a conflict over Taiwan. It also contends that as things stand Taiwan would have little warning of a surprise attack.
"Today, the PLA is probably capable of launching raids against Taiwan with little or no advanced warning," it says.
"A single Pearl Harbour-style UAV swarm strike, missile attack, or small island seizure operation is possible at any time, should the authorities in Beijing desire. Yet, preparations for large military operations could not be completely hidden from view. The more ambitious the PLA's objectives, the less likely that operational security could be maintained against Taiwan and US intelligence collection efforts."
Project 2049 also calls for Taiwanese-operated UAVs to be part of a broader surveillance network including the USA and Japan, and discussed indigenous Taiwanese UAV programmes that could contribute to this.
"In peacetime, [UAVs] could carry out persistent, extended-range surveillance of coastal areas to watch for indications and warning of hostile intent," it says. "When PLA bombers, fighters, drones, warships or submarines conduct exercises or approach Taiwan, UAVs could be used to assess their capabilities and intentions."
Moreover, a UAV capable of monitoring ships would be able to observe Chinese coast guard or civilian vessels involved in so-called "grey zone" operations that stop short of the threshold of outright war. Beijing, wary of antagonising rivals too directly, is adept at such tactics, especially at sea.
According to an August report by Reuters, in addition to the Reapers the overall Taiwan package will also include targeting pods – likely the Lockheed Martin Sniper system – for Taiwan's Lockheed F-16Vs, as well as a variant of Boeing's AGM-84 Harpoon anti-ship missile, the SLAM-ER (Standoff Land Attack Missile-Expanded Response). Lockheed's M142 High Mobility Artillery Rocket System is also included.
Beijing will be apoplectic if the package goes through. Still, Taipei's possession of an advanced surveillance system in the form of the MQ-9 would greatly contribute to its situational awareness, and complicate planning for the PLA.

Greg Waldron is the Asia Managing Editor of FlightGlobal, responsible for the team's airline, aerospace, and defence coverage across the region. He has worked at the company since 2009. In the airline space, Waldron has conducted dozens of interviews with airline leaders in the Asia-Pacific. He also covers areas such as MRO and safety. On the defence beat, Waldron has written extensively about the rise of Chinese airpower, as well as broader airpower developments around the region, such as indigenous fighter programmes, and regional acquisitions of foreign equipment. In addition, Waldron writes about commercial helicopters in the region and business aviation. Waldron worked has a freelance journalist with his work appearing in several business publications.
View full Profile